The U.S. Mint just released its FY 2014 Annual Report and the total Dollar sales of Silver Eagles surpassed Gold Eagles by a wide margin. Unfortunately, the U.S. Mint's Annual Reports are based on Fiscal Year accounting, so their figures do not correspond to the data released on their website.
For example, the U.S. Mint sold 44 million ounces (Moz) of Silver Eagles in 2014, and 524,500 Gold Eagle oz. However, the Fiscal Year figures are from Oct 2013 to Sept 2014, which only show 38.3 Moz of Silver Eagles versus 524,000 Gold Eagles.
According to the data put out in the U.S. Mint 2014 Annual Report, total sales of Silver Eagles were $850 million compared to $693 million in Gold Eagle sales.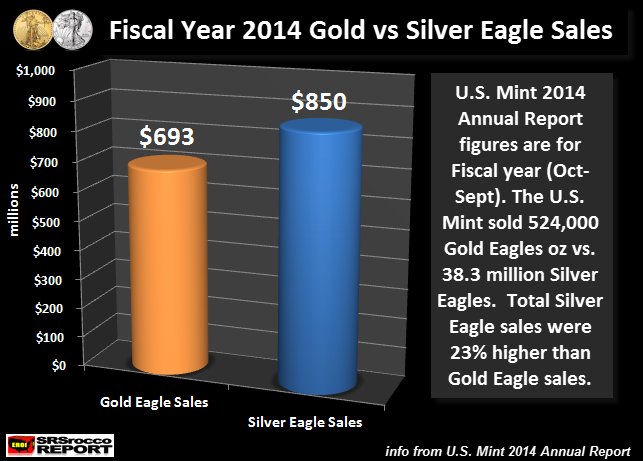 Thus, Silver Eagle Dollar sales were 23% higher than Gold Eagles in FY 2014. Now, if we look at the figures for FY 2013, we see a much different picture. In FY 2013, the U.S. Mint sold 983,000 oz of Gold Eagles at $1.58 billion compared to 43.5 Moz of Silver Eagles at $1.2 billion: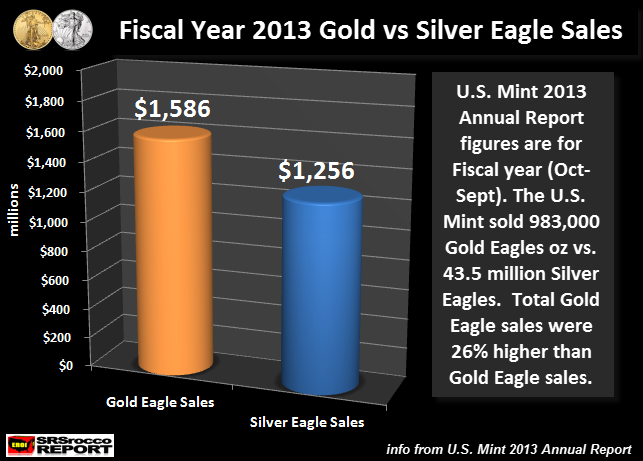 Even though total Eagle sales are down considerably in FY 2014 compared to FY 2013, Gold Eagles fell off a cliff. Here are the net change in Gold and Silver Eagle sales:
Net Change FY 2014 vs FY 2013
Gold Eagle Dollar sales= -$893 million (-56%)
Silver Eagle Dollar sales = -$406 million (-32%)
Gold Eagle Dollar sales fell 56%, while Silver Eagle sales declined 32%.
While FY 2014 Silver Eagle Dollar sales surpassed Gold Eagles, if we add Gold Buffalo sales, then total gold bullion sales were higher than silver sales. Again, according to the U.S. Mint, 178,000 Gold Buffalos were sold at a value of $234 million. If we add this to the $693 million of Gold Eagles, we get a total of $927 million for these to official gold coins.
Regardless, sustained lower prices of the precious metals in 2014 impacted sales of Gold Eagles a great deal more than Silver Eagles. Which proves the point… investors find more value in purchasing Silver Eagles as an excellent store of wealth in the future compared to Gold Eagles.
Please check back for new articles and updates at the SRSrocco Report. You can also follow us at Twitter below: