Trading Symbol: TSX: SVM
NYSE AMERICAN: SVM
VANCOUVER, British Columbia – May 15, 2023 –Silvercorp Metals Inc. ("Silvercorp" or the "Company") (TSX/NYSE American: SVM) is pleased to announce that it has signed a non-binding term sheet (the "Term Sheet") with Celsius Resources Limited ("Celsius") (ASX/AIM: CLA) regarding a proposed transaction (the "Proposed Transaction") pursuant to which Silvercorp will acquire all of the issued and outstanding shares of Celsius. The addition of Celsius' advanced-stage Maalinao-Caigutan-Biyog copper-gold project ("MCB Project") in the Philippines to Silvercorp's profitable underground silver mining operations will move Silvercorp into being a diversified precious-base metals producer.
The major terms of the Proposed Transaction are:
Silvercorp has offered to acquire all of the outstanding shares of Celsius from the shareholders of Celsius, at a fixed price of AUD$0.030 per share, in exchange for consideration comprising 90% Silvercorp shares + 10% in cash. Silvercorp's share price will be determined based on the volume weighted average trading price on the NYSE for the 20 business days ending on the scheme record date.

The consideration of AUD$0.030 per share represents a 76% premium to the 20-day volume weighted average price of Celsius as of the close of trading on the Australian Securities Exchange (ASX) on May 11, 2023. The total consideration is approximately AUD$56 million. Using Silvercorp's current share price, the proposed transaction will result in Silvercorp issuing approximately 9.7 million shares and paying AUD$5.6 million to the shareholders of Celsius.

Celsius and Silvercorp have also executed a private placement subscription agreement at AUD$0.015 per Celsius share for a total of AUD$5 million. This will provide interim funding for further development of Celsius' MCB Project. On closing of the private placement, Silvercorp will own approximately 15% of the outstanding shares of Celsius.

In addition to the consideration, Celsius shareholders will receive shares in a new exploration company ("Spinco") which will hold all of Celsius' rights and interests with respect to the Sagay (Philippines) and Opuwo (Namibia) projects. The Spinco shares will be distributed on a 10 Celsius shares for 1 Spinco share basis. Spinco will seek a listing on the ASX or London Stock Exchange Alternative Investment Market (AIM) via a demerger and concurrent initial public offering. Silvercorp has agreed to invest AUD$4 million in Spinco, valued at a post-financed market capitalization of AUD$30 million.

The Proposed Transaction will be implemented by way of a Scheme of Arrangement ("Arrangement") or other appropriate form of transaction under Australian laws, under a definitive agreement ("Definitive Agreement") to be negotiated and entered into by Silvercorp and Celsius within one month of the Term Sheet. The final structure of the Proposed Transaction will be governed by the terms of the Definitive Agreement. The Term Sheet does not create a binding agreement with Celsius for the Proposed Transaction, and there is no assurance that Silvercorp and Celsius will reach agreement on the terms of the Definitive Agreement as set out in the Term Sheet, or at all. If the Proposed Transaction is not completed, Silvercorp will have the right to maintain its percentage interest in Celsius pursuant to the placement agreement. In addition to entering into the Definitive Agreement, completion of the Proposed Transaction is subject to, among other conditions, satisfactory completion of due diligence, voting support of key Celsius shareholders, Celsius shareholder approval, and regulatory approvals.
Dr. Rui Feng, Chairman and CEO of Silvercorp, commented:
"The addition of the MCB Project to our growing project portfolio aligns with our strategic objectives of diversifying and growing our asset base and will position us to benefit from copper's strong fundamentals, a key ingredient in the green energy revolution. We believe this is a rare opportunity to leverage our underground mining expertise and financial strength to unlock value for all shareholders through the development of the MCB Project, as well as aggressive exploration programs in the Pacific Rim Metallogenic Belt, one of the most important porphyry copper-gold belts in the world.
We look forward to partnering with the Government of the Philippines to make a successful entry into the region, leveraging Celsius' well-established team and strong local relationships, to ensure a smooth transition and continued development that benefits all stakeholders."

Transaction Rationale for Silvercorp
Greater diversification:

The acquisition of Celsius' MCB Project gives Silvercorp exposure to a high-grade copper-gold project well suited to our extensive underground mining experience, in a promising jurisdiction with substantial local relationships and support, and together with Silvercorp's ongoing acquisition strategy, provides the opportunity for a significant re-rate upon successful development of the MCB Project;

Enhanced strategic positioning:

MCB Project provides significant exposure to copper and aligns with our strategy of being a responsible supplier of strategic metals for the expanding green energy sector;

Exploration upside

: Silvercorp's substantial free cash enables funding exploration programs to test numerous, high-priority brownfield and greenfield exploration targets within a land package covering 27.2 km2of the highly prospective (and productive) MCB Project area;

Significant pro-forma synergies:

The acquisition of Celsius will combine Silvercorp's strong management and underground mining skill set with Celsius' deep experience and network in the Philippines to ensure near-term development of the MCB Project; and

Strong financial position:

Through a share and cash transaction, Silvercorp can preserve its cash reserves while minimizing dilution. As a result, the Company's strong financial position, supported by its robust cash flow profile, will provide ample funding to optimize and develop the MCB Project, as well as pursue additional M&A opportunities.
The MCB Project
Based on Celsius' publicly released information, the MCB Project is located in the Cordillera Administrative Region of the Philippines, approximately 320 km north of Manila. Porphyry-style mineralization in the MCB Project area was first discovered in the early 1930s, but modern exploration was limited until Freeport McMoRan entered in 2006. Over the next seven years, Freeport conducted systematic exploration work and completed approximately 25,500 metres of drilling in 46 diamond drill holes. Celsius entered an agreement to acquire the MCB Project in September 2020 and has since drilled nine more diamond holes, bringing the total number of drill holes to 55.
A maiden JORC Compliant Mineral Resource Estimate (MRE) was released for the MCB Project in January 2021, reporting 290.3 million tonnes of Indicated Resources grading 0.48% copper and 0.15 grams per tonne ("g/t") gold, and 23.5 million tonnes of Inferred Resources grading 0.48% copper and 0.10 g/t gold.
An updated JORC compliant MRE was announced in December 2022, reporting 296 million tonnes of measured + indicated resources grading 0.46% copper and 0.12 g/t gold, containing 1.36 million tonnes of copper and 1.146 million ounces ("oz") of gold, and 42 million tonnes of Inferred Resources grading 0.52% copper and 0.11 g/t gold, containing 0.218 million tonnes of copper and 0.149 million oz of gold.
A Scoping Study for the MCB Project was released by Celsius in December 2021, which outlined a development plan for an underground mining operation with back-filling and a flotation mill at 2.28 million tonnes per year to produce high quality copper-gold concentrates for a 25-year mine life. The estimated average head grade is 1.18% copper and 0.56 g/t gold with a 94% recovery rate for copper and 79% for gold, producing 22,000 tonnes of copper and 27,000 oz of gold annually for the first 10 years.
Assuming a copper price of US$4.00/lb, a gold price of US$1,695/oz, and an estimated initial capital expenditure of US$253 million, the Scoping Study concluded that the MCB Project has a post-tax NPV (8%) of US$464 million, an IRR of 31%, and a payback period of approximately 2.7 years.
11 significant drill holes (out of the 55 total) are shown below: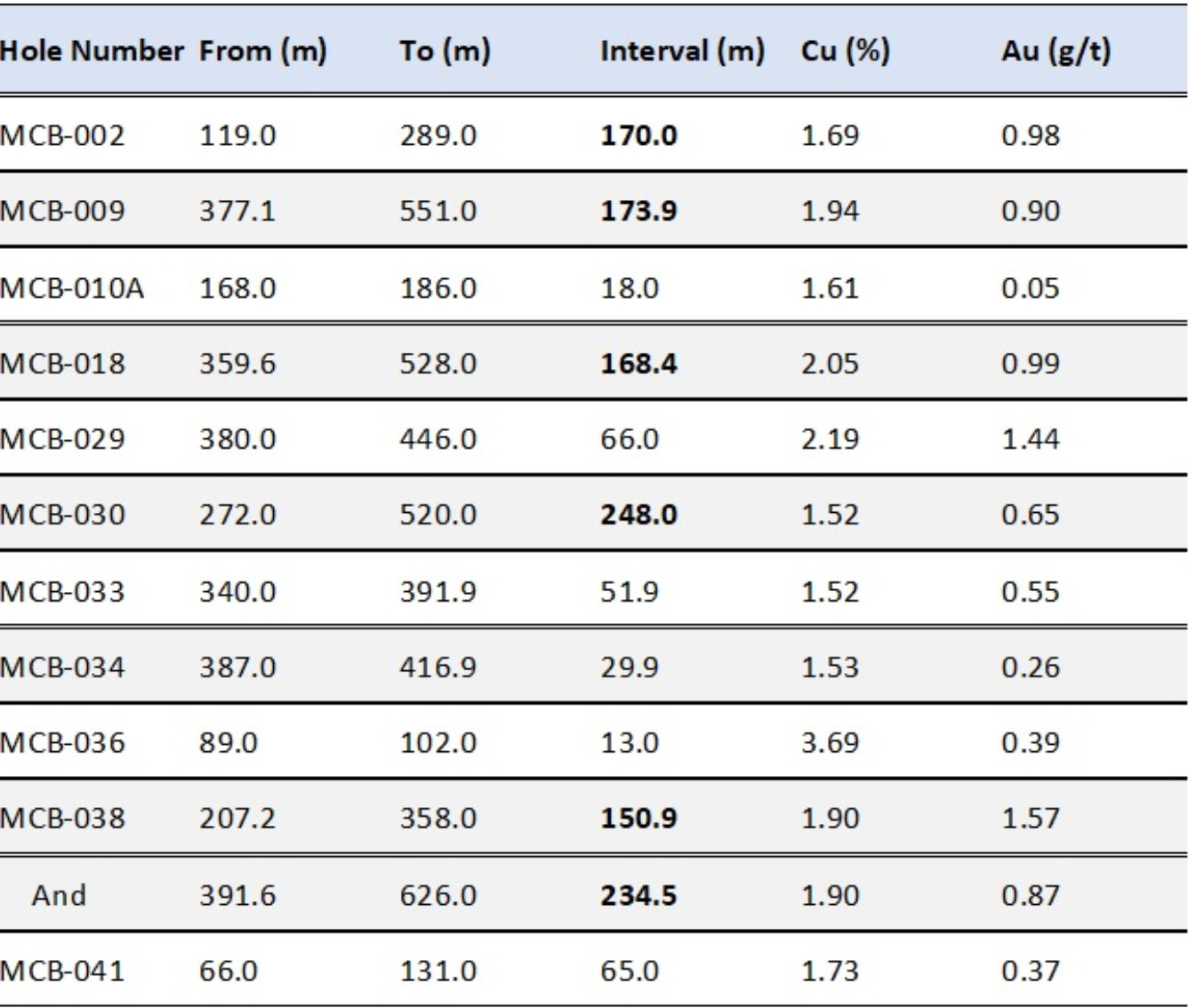 Significant MCB Permitting Progress
A Memorandum of Agreement (MOA) has been signed with the local communities and the National Commission on Indigenous Peoples (NCIP) in November 2022 which allows the development and operation of the MCB Project for 25 years, renewable for another 25 years. With the endorsement of local communities and an Environmental Compliance Certificate issued by the Philippine government, Celsius is in the final stage of obtaining the mining permit from the Philippine government, the Mining Production Sharing Agreement (MPSA), necessary for the development of the MCB Project.
About Silvercorp
Silvercorp is a Canadian mining company producing silver, gold, lead, and zinc with a long history of profitability and growth potential. The Company's strategy is to create shareholder value by 1) focusing on generating free cashflow from long life mines; 2) organic growth through extensive drilling for discovery; 3) ongoing merger and acquisition efforts to unlock value; and 4) long term commitment to responsible mining and ESG.
For further information
Silvercorp Metals Inc.
Lon Shaver
Vice President
Phone: (604) 669-9397
Toll Free 1(888) 224-1881
Email: investor@silvercorp.ca
Website: www.silvercorp.ca
CAUTIONARY DISCLAIMER - FORWARD-LOOKING STATEMENTS
Certain of the statements and information in this news release constitute "forward-looking statements" within the meaning of the United States Private Securities Litigation Reform Act of 1995 and "forward-looking information" within the meaning of applicable Canadian provincial securities laws (collectively, "forward-looking statements"). Any statements or information that express or involve discussions with respect to predictions, expectations, beliefs, plans, projections, objectives, assumptions or future events or performance (often, but not always, using words or phrases such as "expects", "is expected", "anticipates", "believes", "plans", "projects", "estimates", "assumes", "intends", "strategies", "targets", "goals", "forecasts", "objectives", "budgets", "schedules", "potential" or variations thereof or stating that certain actions, events or results "may", "could", "would", "might" or "will" be taken, occur or be achieved, or the negative of any of these terms and similar expressions) are not statements of historical fact and may be forward-looking statements. Forward-looking statements relate to, among other things: creating shareholder value; generating free cashflow from long life mines; organic growth; mergers and acquisitions; and estimated production from the Company's mines in the Ying Mining District and the GC Mine.
Forward-looking statements are subject to a variety of known and unknown risks, uncertainties and other factors that could cause actual events or results to differ from those reflected in the forward-looking statements, including, without limitation, risks relating to: social and economic impacts of COVID-19; fluctuating commodity prices; calculation of resources, reserves and mineralization and precious and base metal recovery; interpretations and assumptions of mineral resource and mineral reserve estimates; exploration and development programs; feasibility and engineering reports; permits and licences; title to properties; property interests; joint venture partners; acquisition of commercially mineable mineral rights; financing; recent market events and conditions; economic factors affecting the Company; timing, estimated amount, capital and operating expenditures and economic returns of future production; integration of future acquisitions into the Company's existing operations; competition; operations and political conditions; regulatory environment in China and Canada; environmental risks; legislative and regulatory initiatives addressing global climate change or other environmental concerns; foreign exchange rate fluctuations; insurance; risks and hazards of mining operations; key personnel; conflicts of interest; dependence on management; internal control over financial reporting; and bringing actions and enforcing judgments under U.S. securities laws.
This list is not exhaustive of the factors that may affect any of the Company's forward-looking statements. Forward-looking statements are statements about the future and are inherently uncertain, and actual achievements of the Company or other future events or conditions may differ materially from those reflected in the forward-looking statements due to a variety of risks, uncertainties and other factors, including, without limitation, those referred to in the Company's Annual Information Form under the heading "Risk Factors". Although the Company has attempted to identify important factors that could cause actual results to differ materially, there may be other factors that cause results not to be as anticipated, estimated, described or intended. Accordingly, readers should not place undue reliance on forward-looking statements.
The Company's forward-looking statements are based on the assumptions, beliefs, expectations and opinions of management as of the date of this news release, and other than as required by applicable securities laws, the Company does not assume any obligation to update forward-looking statements if circumstances or management's assumptions, beliefs, expectations or opinions should change, or changes in any other events affecting such statements. For the reasons set forth above, investors should not place undue reliance on forward-looking statements.
Additional information related to the Company, including Silvercorp's Annual Information Form, can be obtained under the Company's profile on SEDAR at www.sedar.com, on EDGAR at www.sec.gov, and on the Company's website at www.silvercorp.ca.
About the author