This is an exclusive article for SilverSeek.com
Insignia Consultants will complete seventeen years in June. I started off by advising some very close friends (and friends of friends) who were (and are) silver dealers and silver traders Delhi, Kuch Mahajani bullion market. I used to analyse only silver and not gold (apart from foreign exchange markets). There used to be an unofficial twenty four hour silver option trade in Delhi's Kucha Mahajani .
One can make good profit while trading in silver futures. Over the past few years, silver investment return has far lagged gold. This will soon be history. Corona virus has come in the right time for silver to show its true colors. Surplus production of silver from copper mines has prevented silver prices from a big rise. Central banks do not accumulate silver. Lack of silver exchange traded fund (ETF) in India (in my view) is partially responsible for global silver prices to remain subdued.
If the gold price rises too quickly, more and more people will be forced to invest in silver. Last week I read that there was some fear that nations can seize gold investment. Historically nations have seized people's physical gold. I do not expect gold to be forcefully taken away by our elected political masters. Nonetheless fears will remain. This fear will drive more and more people to invest in physical silver, silver ETF and/or whichever way they can invest in silver.
MCX Silver and MCX Gold near term future closing price difference/gap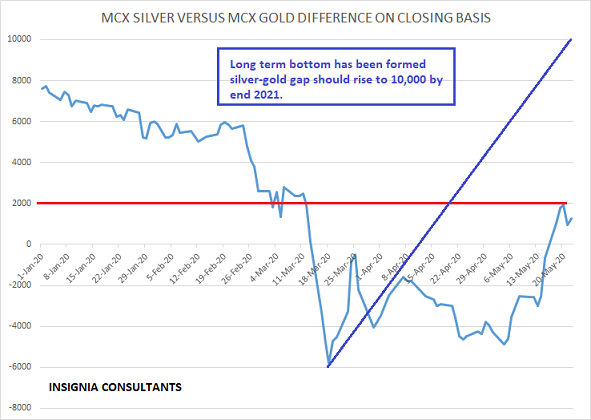 Highest silver-gold closing gap was at 7745 on 2nd January 2020.
Lowest silver-gold closing gap was at -5816 on 18th March 2020.
So far in 2020 one hundred trading days has been completed. The one hundred day moving average is at 1558. Closing gap on 22nd May was at 1282. The gap (between mcx silver and mcx gold) has to trade over 1558 to rise.
MCX Silver Closing spread/badla
Badla/spread is very important factor for silver investors. Roll over cost can decide the medium term silver investment strategy as well as long term investment strategy. Over the past few years, selling silver and rolling it over at the end of every two months has been a highly profitable trade. This will cease to exist in the second half of the year.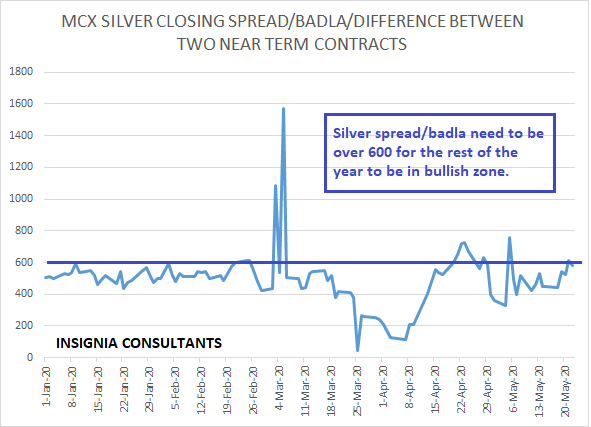 Highest spread/badla on 3rd March 2020: Rs.1080
Lowest spread/badla on 25th March 2020: Rs.47
Average spread/badla for 2020: Rs.500
Silver spread/badla has to trade over 600 to be in bullish zone. The lower the spread, the slower will be the pace of rise of MCX silver future. MCX silver future spread/badla has to be over 1000-1250 zone for a few weeks for silver prices to target all time high of Rs.73600.
MCX Silver Daily High-Low difference
Daily High-Low difference tells us the intraday volatility. Some days open price and low price is the same. Some days open price and high price is the same. Day traders and jobbers thrive on the days when the daily high-low gap is high. In other words, intraday volatility is high in silver.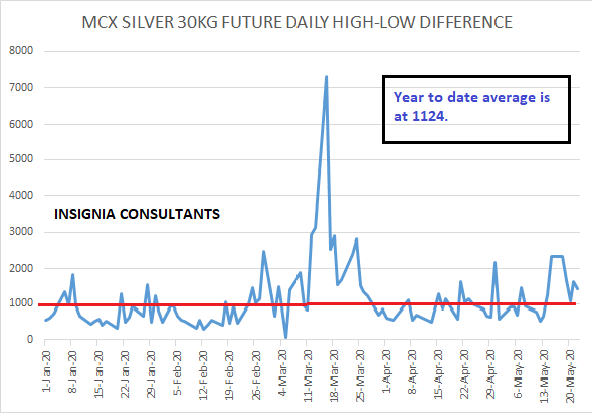 Every commodity exchange needs a decent amount of daily high-daily low gap to attract higher trading volumes. Low gap and range bound prices dissuades short term traders.
Highest high-low gap 16th March: Rs.7343
Lowest high-low gap 12th February: Rs.293
Silver prices have a history of consolidating for a very long term period of time. This is followed by sudden knee jerk price moves. A Rs.1500 to Rs.1800 daily high-daily low gap is normal. A Rs.400-Rs.500 daily high-daily low gap results in more traders preferring gold over silver (as per my experience).
MCX Silver Technical View
In 2020 MCX silver future price twice neared the psychological Rs.50,000 per kilogram market, only to sharply sell off thereafter.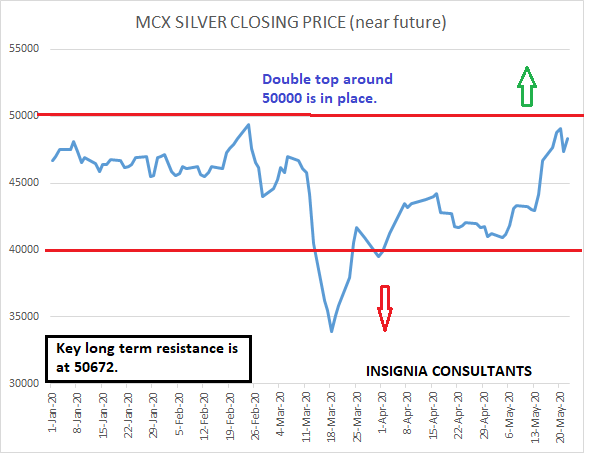 Some key moving averages (MA). Not in the graph above.
100 day MA: Rs.44364
200 day MA: Rs.44929
100 week MA: Rs.40972
200 week MA: Rs.40693.
100% forward retracement: Rs.50672.
Bullish view: Silver has to break and trade over 50672 for the rest of the year to rise to 56306 and 64274. If and when silver break and trade over 64274 then 80210 and 90058 are the current impossible targets.
Bearish view: Failure to break and trade over 50672 in the next three weeks (12th June) will result in fatigue and a sell off to 40693 (100 day MA). This years low of 33580 can be tested in case silver does not break 50672 by end July.
To Conclude
Giving a bullish silver view is like shouting wolf. I am confident that the bullish silver wolf will arrive this year. Negative interest rates due to COVID crisis should result in a sharp rise in silver investment demand. Silver has to shed its industrial metal tag. Until then, there will be continued sharp selloffs if and when industrial metals suffer losses. COVID crisis will not result in significant reduction in industrial demand for silver. Silver investment requires patience and is not for everyone. Invest in silver with a two year perspective.
Views as of Sunday, May 24, 2020
About the author