2022 SILVER TECHNICAL VIEW
Silver has crashed whenever the world has been hyper bullish. The reason why silver prices are easy to manipulate are (a) Officially silver is not a part of central bank reserves (unlike gold). (b) Silver is still in surplus. (c) Recycling silver is cheap and profitable. (d) The amount needed to rig silver price is zilch as compared to gold and other asset classes. ( e) Silver is a byproduct of copper and other industrial metals.
Silver should have over-performed all the industrial metals. It did not. Retail traders never invest in physical silver due to its bulky physical form. The number of silver ETFs worldwide is way less than gold. This will change in 2022 as India gets silver ETF. I expect at least ten silver ETFs to operate in India before the end of 2022. This itself is a reason to start investing in silver in small amounts every month.
Fundamentals are very strong in silver. Silver's use in pollution control devices, in the medical industry, in solar panels, in the automotive sector suggest that physical silver will be in deficit over the coming years. The pun here is Silver strong demand-side fundamentals have yet to translate into bumper returns. Retail trader and long-term investors lose their patience and switch away from silver to other investment avenues.
History will not repeat itself in silver in 2022 and further years. Silver price manipulators like JP Morgan and other large hedge funds will face historical losses in case they try to crash off silver price. I always suspect that large hedge funds are constantly investing physical silver at a lower price. They are just manipulating Comex silver future price to gobble up physical silver.
SOME SILVER TECHNICAL DATA CRUNCHING
Average Closing price between 2016-2021: $1877.90
The average Closing price of lost three years (including 2021): $2070.44.
One hundred weeks moving average: $2327.70
Two hundred week moving average: $1999.00.
Two hundred month moving average: $1908.10.
Long-term investors should use a buy-on crashes strategy as long as silver trades over $1877.90 - $1908.10 zone. If I rephrase it then all price crashes up to $1877.90 are a part and parcel of the long-term bullish trend. ## 2021 average closing price is closing on 27TH December 2021.
In the short term silver has to trade over one hundred week moving an average of $2327.70 to be in a bullish zone.
In 2022 silver has to trade over the three years' average closing price of $2077.44 to be in a bullish zone. I am using the past three years' average closing price. Why? Pre covid year is 2019. The covid year is 2020. Covid vaccine year is 2021. Impact of 2020 covid year gets nullified using data of past three years.
Key support's for Comex Silver Future in 2022: $1584.10, $1746.40, $1851.90, $1999.00 and $2087.90.
Key resistances for Comex Silver Future in 2022: $2509.90, $2640.40, $2745.90, $3013.60 and $3234.40.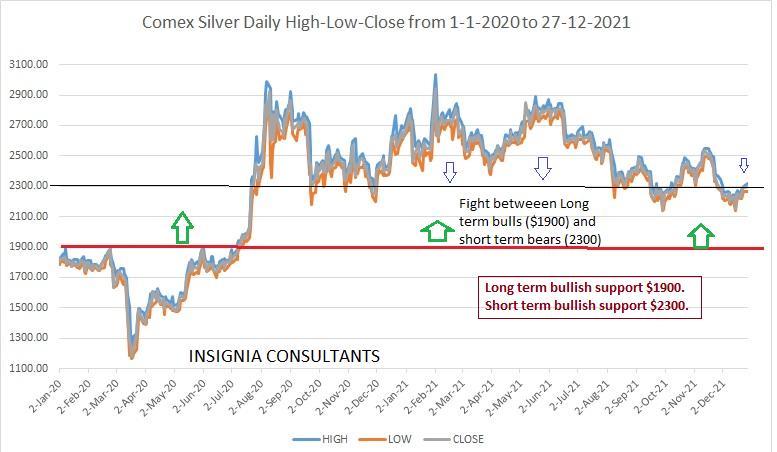 Technical View from the above silver graph
Silver can rise to $2745.90 and $3234.40 and $3728.30 in 2022 as long as it trades over $2087.90.
Silver will crash and test $1908.10 and $1615.80 and $1404.90 if it trades below $2087.90 for atleast eleven consecutive trading sessions.
Silver will crash if it does not break and trade over initial resistance of 2509.80 by the first week of February.
Near term comex silver future has to trade over $2509.80 in the first quarter of 2022 to attract short term hot money.
Trading Strategy for silver in 2022.
Very short term traders invest in silver if it trades over $2327 in the first fortnight of January.
Medium term investors and long term investors use any ten percent or more price fall (if any) to invest. To me silver is an invest, invest and only invest on price crashes in 2022. Even if gold price sinks in 2022, silver will fall in a negligible way.
Risks to the above bullish view in silver are
Global stock markets plunge and move into a bearish phase. This will cause silver price to sink and trade below $1900 as well.
Industrial metals sell off due to whatever reason. Yeah silver is an industrial metal.
There is a bearish demand outlook.
All of us including myself look for an annualized return of over fifteen percent at the minimum to make a new investment. Will the silver price be able to rise over fifteen percent in 2022?
Fifteen percent is $2643.70 (From the closing price of $2298.90 on 27th December 2021). Silver should easily rise to $2643.70 in 2022. I do not have an iota of doubt over the same. If you are looking an investment return of fifteen percent and more as a part of investment diversification them silver is the metal for you.
A bit on gold-silver ratio
| | |
| --- | --- |
| YEAR | AVERAGE GOLD-SILVER RATIO IN COMEX FUTURE |
| 2016 | 70.08 |
| 2017 | 73.85 |
| 2018 | 80.94 |
| 2019 | 86.18 |
| 2020 | 85.87 |
| 2021 | 71.40 |
Average gold-silver ratio from 2016 is 78.07. Silver is bullish in 2022 as long as the gold-silver ratio trades over 78.07. Silver price will move into a bearish zone if the gold-silver ratio trades below 78.07 for atleast twelve consecutive trading sessions.
Once again a very profitable and relaxed 2022 to everyone.
Disclaimer: Any opinions as to the commentary, market information, and future direction of prices of specific currencies, metals and commodities reflect the views of the individual analyst, In no event shall Insignia Consultants or its employees have any liability for any losses incurred in connection with any decision made, action or inaction taken by any party in reliance upon the information provided in this material; or in any delays, inaccuracies, errors in, or omissions of Information. Nothing in this article is, or should be construed as, investment advice. All analyses used herein are subjective opinions of the author and should not be considered as specific investment advice. Investors/Traders must consider all relevant risk factors including their own personal financial situation before trading. Website www.insigniaconsultants.in Prepared by Chintan Karnani
"Print this report only if absolutely necessary. Save Paper. Save Trees."
We have no branch
We do not have any marketing agents in any city in India
NOTES TO THE ABOVE REPORT
ALL VIEWS ARE INTRADAY UNLESS OTHERWISE SPECIFIED
PLEASE NOTE: HOLDS MEANS HOLDS ON DAILY CLOSING BASIS
PLEASE USE APPROPRIATE STOP LOSSES ON INTRA DAY TRADES TO LIMIT LOSSES.
All price above is in US Dollars (unless otherwise specified).
You can also mail your queries at insigniaconsultants@gmail.com
Chat Id: telegram/whatsapp 9811139549
About the author