Ticker: ABRA.V (Venture), ABBRF (OTC)
52-week high-low: C$0.04-C$0.21/share
Shares Outstanding: 318m (Basic), 509m (F/D)
AbraPlata Resources is a silver, gold, and copper exploration company with projects in both Argentina and Chile. Its principal asset is the Diablillos Ag-Au project in Argentina. It has a relatively large resource base and an initial open-pit PEA was completed in 2018. There still remains exploration upside as very little deep drilling has been undertaken and the deposit remains open along strike.
Ownership of the company is strong with Altius Minerals, SSR Mining, and Eric Sprott (On July 9th, invested $3m) owning 35% of the outstanding shares and insiders owning 3%. The company does have a relatively sloppy share structure but this isn't uncommon for juniors given the duration and severity of the last bear market. The company currently has issued 318m shares but 509m shares on a fully diluted basis.
While advancing and building projects in Argentina, it has become increasingly uncertain over the past couple of years due to the ability to repatriate profits. Its flagship, Diablillos is in the Salta province and ranked #4 overall for investment attractiveness in Latin American. This ranks ahead of both Mexico (6th) and Brazil (9th) per the 2019 Fraser Institute Mining Survey.
AbraPlata's portfolio of asset are located in 3 of the top 4 most attractive jurisdictions in Latin America, again the Fraser Institute. This includes its Arcas project in Chile (1st), its La Coipita project in San Juan Argentina (2nd) and of course Diablillos.
Diablillos: Per the 2018 PEA, the project would be a 6ktpd operation producing 9.8m AgEq oz., generating and after-tax NPV7.50% and IRR of $212m and 30.20% using a silver and gold price deck of $20/oz. and $1,300/oz. But at today's metal prices, the NPV would be significantly higher despite a slightly lower silver prices as the gold price has risen substantially.
The project was acquired from SSR Mining, which holds a healthy stake in the company. The company was able to defer the property payment of $5m to 2023 and $7m to 2025 to SSR in exchange for 24m shares. The capital investment required to bring this project into production is $293m, which is too large for AbraPlata to do on its own. It will likely either have to enter into a JV agreement, or sell it outright, though things could change depending on how high precious metal prices rise.
The project is highly leveraged to changes in the silver price as the NPV increases $47m for every 10% increases in the silver price. For example, the NPV7.5% at $18/oz. Ag and $1,300/oz. Au is $164m vs. an NPV7.5% of $306m at $24/oz. Ag and $1,300/oz. Au. Many things are likely to change with an optimized PEA, PFS, or FS. This excludes gold price sensitivity and it will contribute a meaningful proportion of total revenue.
The project is an epithermal Ag-Au deposit with Cu-Au Porphyry Intrusive. The Diablillos property has multiple epithermal and porphyry targets, with the Oculto Zone currently containing the majority of the resource [and where most of the work has been focused] with over 85k meters of drilling having been completed. But all the drilling to date has not tested below a depth of 400m. The open-pit mineral resource contains 82.63m oz. Ag and 761k oz. Au. The deposit is open along strike and at depth.
The following are some exciting drill results. Recent results confirm high grade silver and gold zones in oxides over significant widths. Drilling has mostly hit oxides but underneath the current resource, the company has intersected high-grade copper in sulphides. These include:
17.5m @ 603.9 g/t Ag and 0.1 g/t Au

15m @ 285 g/t Ag and 10.4 g/t Au

29m @ 430 g/t Ag, 4.30 g/t Au, and 2.77% Cu
Some 2020 catalysts and milestones include the evaluation of M&A opportunities, additional financing [completed a $5m financing in July 2020], Phase II Oculto (3,000m) drill program, an optimized PEA expected to be completed in the 2H 2020, continued regional exploration potential of Diablillos, and Riot Tinto (which has an option to earn a 75% interest) on Arcas project in Chile.
The company is trading at a discount to its peer group if based on in the ground resources, with EV/Resource of $0.24/share as at July 14th 2020. Some of this relative undervaluation could be due to the uncertainty surrounding the ability to repatriate profits from Argentina over the medium-term or the fact unlike many of its peer's, the company only has M&I and Inferred resources, no reserves.
While most of the value in the company is derived from Diablillos, its other two assets could unlock value with additional exploration and rising gold and silver prices. Below is a sensitivity table based on the Diablillos PEA using various gold and silver prices. This is preliminary in nature and it is likely many things will change as the company advanced the project towards a feasibility study.
Diablillos Sensitivity: Changes in Silver & Gold Prices @ 7.50% in M's

#####

$1,350

$1,500

$1,650

$1,800

$1,950

$18

181,370

196,262

211,154

226,046

240,938

$20

225,491

240,758

256,024

271,290

286,557

$22

269,001

284,573

300,146

315,719

331,291

$24

312,051

327,879

343,707

359,534

375,362

$26

354,748

370,791

386,835

402,879

418,923

$28

397,167

413,395

429,624

445,853

462,082

$30

439,364

455,753

472,142

488,531

504,921
Arcas Copper/Gold Project: AbraPlata entered into a JV agreement with Rio Tinto whereby Rio can earn up to a 75% interest in the project by incurring up to US$25m in exploration spending. The property hasn't been drilled in a while, with a subsidiary of Teck Resources having last drilled there in 2010. A summary of the key term of the agreement are as follows:
1st option: If Rio Tinto incurs total project expenditures of US$4 million within 3 years, and makes aggregate cash payments to Aethon of US$300,000 during the first two years, it will have the right to acquire a 51% interest in the Arcas project through the acquisition of 51% stock of a new company that will be incorporated;

To exercise the option, Rio Tinto shall make the cash payments before the following dates:

US$100,000 on or before the first anniversary date;

US$200,000 on or before the second anniversary date;

2nd Option: If Rio Tinto incurs additional project expenditures of US$5 million over the subsequent 2-year period, it will have a right to acquire an additional 14% interest in Opco (holder of the Arcas project), resulting in its total interest being 65%; and

3rd Option: If Rio Tinto incurs additional project expenditures of US$16 million over the subsequent 3-year period, it will have a right to acquire an additional 10% interest in Opco (holder of the Arcas project), resulting in its total interest being 75%;

Rio Tinto has agreed to incur minimum project expenditures of US$1 million within one year of securing all necessary approvals to conduct drilling activities which is to be part of the Stage 1 earn-in project expenditure.

In the event Rio Tinto withdraws from the Project, it will pay Aethon an amount equaling the cost to maintain the Project concessions for the 12-month period commencing on the date of termination that have not already been paid.

Under the terms of the Agreement, Rio Tinto shall have the right to form a Joint Venture ("JV") with the following key terms:

The JV (Opco) may be formed with 51% to Rio Tinto and 49% to Aethon upon satisfaction of the 1st Option; 65% to Rio Tinto and 35% to Aethon upon satisfaction of the 2nd Option; or 75% to Rio Tinto and 25% to Aethon upon satisfaction of the 3rd Option.

The JV will be managed by Rio Tinto and funded by each participant in accordance with their interest.

Aethon may elect not to fund its interest and be diluted down to a 10% interest. If Aethon is diluted below a 10% interest, its interest will convert to a 1% net smelter royalty capped at US$50 million.

Each party will have a right of first refusal should the other party wish to divest its shareholder interest.
The project is unlikely to be advanced toward a production decision in this cycle, however, it does provide potential optionality value dependent on how successful Rio Tinto is in exploration efforts as well as those undertaken by AbraPlata.
La Coipita: The company entered into an option agreement to acquire 100% interest in the project, located in the San Juan province, Argentina. AbraPlata believes the project will be of interest to larger mining companies and intends to look for a strategic partner to advance the project.
The project is a large 51.55k hectare project located within the prolific Miocene porphyry epithermal belt. Some historic drill highlights include 127m @ 0.42% Cu and 0.22 g/t Au. In order to exercise the option to acquire a 100% interest in the project, the company is required to make the following payments:
Paid on closing: $65k, 12 months: $100k, 24 months: $200k, 36 months: $400k, 48 months: $1m, 60 months: $2.5m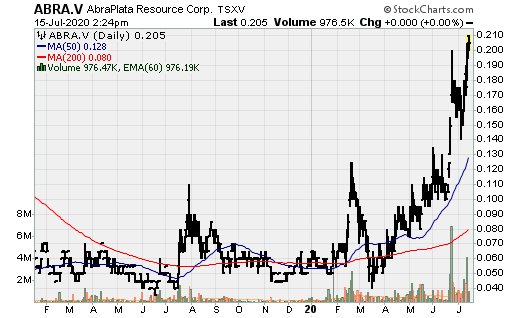 Disclosure: Goldseek.com employees own shares of AbraPlata Resources
About the author