The notion that silver is just an "Industrial Metal" was utterly destroyed today as both the copper and oil prices were crushed as silver surged higher. This is precisely what I was looking for as a positive sign showing that silver is now disconnecting itself from the INDUSTRIAL METAL BALL & CHAIN.
While analysts will continue to regurgitate that the future silver price depends on industrial demand, we can now take this analysis and throw it into the dustbin. The world is heading into a new paradigm of "Building Wealth to Protecting Wealth." And let me tell you, you cannot protect wealth in most STOCKS, BONDS, or REAL ESTATE. Those days are over for good.
Unfortunately, 99% of investors still haven't figured that one out yet… but they will.
Today, it was quite an impressive day for silver (and gold) as the metals surged higher while copper, the king industrial metal, got destroyed. Here is a chart of the copper price versus silver.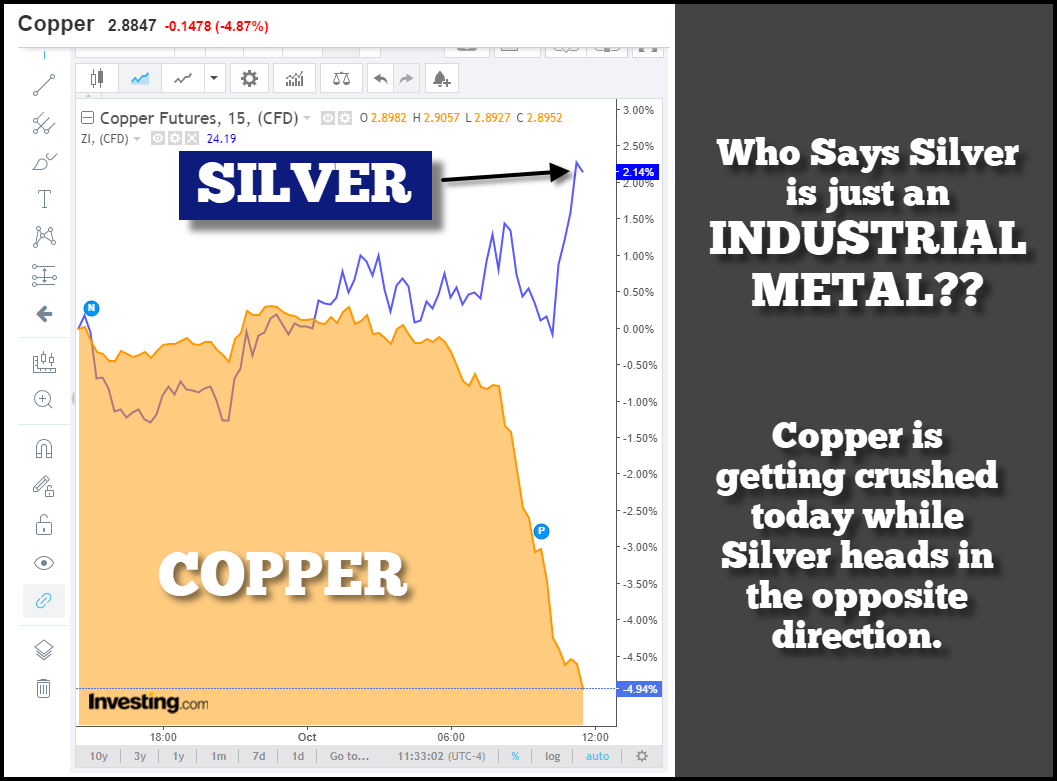 As we can see, copper is down 5% while silver is up 2%. Thus, the leading indicator of the global economy, COPPER, just put out a very BAD SIGNAL, indeed. Now, if silver was just a mere industrial commodity, why didn't it's price follow along with copper???
And, if that isn't bad enough, take a look at the WTI Oil price. The West Texas Intermediate oil price was down 5% as well.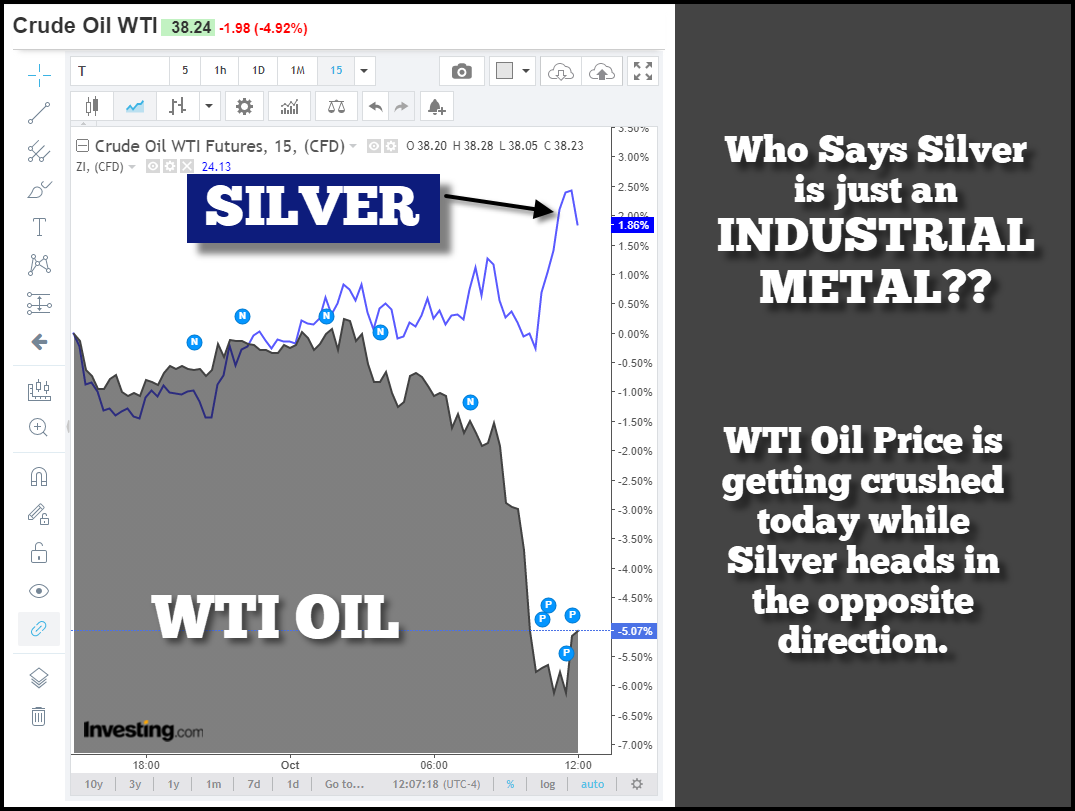 With the U.S. oil price falling $2 in one day, that just wiped out $21 million in oil revenues to the oil companies. This is also terrible news for the U.S. Shale Oil Industry is being held together by DUCT TAPE, BAILING WIRE, and ELMERS GLUE.
Today, I also posted the broad selloff in oil on my SRSrocco Report Twitter feed:
I have been forecasting for the past several months that the U.S. and global economy will continue to unravel towards the end of 2020 and into 2021. With the oil and copper price selling off significantly today, we now have our SIGNAL that ALL IS NOT WELL.
Another indicator suggesting that silver is now heading more towards a Monetary Metal than an industrial metal was explained in my newest member article below:
The silver market is rapidly changing, and new investors are just beginning to wake up to why it's essential to own the shiny metal. As I have stated several times, we are only in the first stage of the coming Silver Fireworks.
DISCLAIMER: SRSrocco Report provides intelligent, well-researched information to those with interest in the economy and investing. Neither SRSrocco Report nor any of its owners, officers, directors, employees, subsidiaries, affiliates, licensors, service and content providers, producers or agents provide financial advisement services. Neither do we work miracles. We provide our content and opinions to readers only so that they may make informed investment decisions. Under no circumstances should you interpret opinions which SRSrocco Report or Steve St. Angelo offers on this or any other website as financial advice.
About the author