Strengths
The best performing precious metal for the week was silver, up 1.25%. Silver led the precious metals rally this week following the Federal Reserve meeting. Gold also rose as real yields held near a record low and the U.S. dollar eased after the Fed said that while it's moving closer to reducing stimulus, the U.S. central bank wants to see more progress toward its goals first. Chairman Jerome Powell commented that there is still some way to go to meet the conditions for tapering and that officials discussed how to scale back bond buying when the time came. Powell spoke after the Federal Open Market Committee (FOMC) held interest rates near zero and maintained asset purchases at $120 billion a month.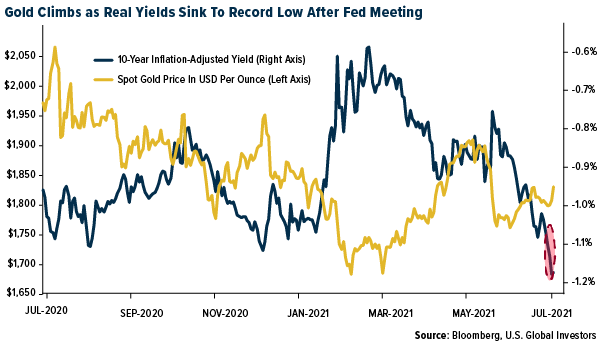 Barrick Gold has been awarded four exploration licenses for 19 blocks following its participation in the International Bid-Round led by the Egyptian government for exploration of gold and associated minerals in the highly prospective Eastern Desert region of the country. The Eastern Desert is part of the Proterozoic Arabian Nubian Shield, which hosts the giant Sukari deposit and numerous other gold occurrences, but which has seen no recent systematic exploration. Barrick intends to work closely with the Egyptian Mineral Resource Authority and other participating exploration and mining companies, over the period of a year, to finalize the terms of Egypt's exploitation license agreement which will apply to the industry.

Agnico Eagle Mines reported earnings per share (EPS) of $0.69, ahead of consensus of $0.59. Production of 526,000 ounces was above consensus as well. Slightly better results were reported at the Meliadine mine (less maintenance interruption) and Pinos Altos (better plant performance and higher tons from the Sinter deposit).
Weaknesses
The worst performing precious metal for the week was platinum, down 1.13%, with palladium also negative for the week. Exchange-traded funds (ETFs) cut their holdings recently, bringing this year's net sales to 6.93 million ounces, according to data compiled by Bloomberg. The sales were equivalent to $57.2 million. Total gold held by ETFs fell 6.5% this year to 100.1 million ounces, the lowest level since May 13. It's notable that holdings in SPDR Gold Shares have ebbed to a two-month low, and the loss of a few more tonnes would drive it to the lowest level in well over a year.

Kinross Gold posted lower production at higher costs than consensus in the second quarter leading to an earnings and cash flow miss. Production of 538,000 ounces was 5% lower than consensus while cash costs of $830 were 9% higher than consensus. EPS of $0.12 per share was slightly below consensus. The company increased cash cost by 5% due to the expected downtime at Tasiast in the second half along with inflationary pressures.

IAMGOLD announced its second quarter 2021 production, a reduction to its 2021 guidance and a significant capex increases at the Côté gold project. Second quarter gold production came in at 139,000 ounces, below consensus of 157,000 ounces, and below first quarter production of 156,000 ounces. The miss was driven by lower-than-forecast production at Rosebel, which produced 25,000 ounces, and was slightly offset by production of 106,000 ounces at Essakane.
Opportunities
Northern Star outlined a five-year plan to increase production by 25% to 2 million ounces per year by fiscal year 2026. The improved production outlook is largely driven by a flagged 45% production increase at Kalgoorlie Production Centre over the next five years. Growth capex was also provided for fiscal year 2023 (A$425m) and fiscal year 2024 (A$380m) which are higher than previous forecasts by 84% and 230%, respectively.

Arizona Metals Corp. released another round of drilling from the silver/zinc zone at Kay. Four holes were released, including Hole 27. Hole 27 is outside the historic Exxon resource, the deepest hole drilled to date by the company, extending the silver zone depth by 20%. Also, the average drilled grade of the silver zone has increased by 9%, showing grades are improving with tighter spacing.

Egyptian billionaire Naguib Sawiris has founded a $1.4 billion fund, La Mancha Fund, for his gold mining investments and new opportunities in the sector, the Financial Times reports, citing an interview with Sawiris. The fund will focus on gold mining and will invest in battery metals necessary for electric cars. The fund will be "deep value, long-only," and open to new investors, Sawiris explains.
Threats
First Quantum reported an EPS miss on taxes being higher than expected. The stock may be weak due to legal challenges in Panama. Cobre Panama pays a 2% royalty versus the current Panamanian Mining Code of 5% on base metals. Panama has set up a commission to negotiate the mine's current fiscal regime.

Golden Star cuts its yearly production forecast after announcing second quarter results. Gold production was cut from 165,000-175,000 ounces to 145,000-155,000 ounces in 2021.

The recent rally in Bitcoin has presented a challenge to gold, as it is viewed as an alternative asset class. Bitcoin rallied around 20% over the past week as Amazon is looking into accepting payment from its customers in cryptocurrencies as well as hiring a crypto team.
About the author