Since our last update on Kootenay Silver, the company has released several exploration updates from its Columba Project and Copalito Ag-Au Project, both in Mexico. These two assets are newer to the company, so successful exploration gives the company the best chance to create shareholders value instead of focusing on La Cigarra and Promontorio.
October 5th, 2020: Drill results confirm the discovery of a broad zone of high-grade hydrothermal breccias and encompassing low-to-medium grade quartz stockwork system at the J-Z zone at the Columba silver project. The J-Z zone is roughly 700m east of the F-vein and measures at least 320 long, 460m deep with an average width of 60m. The system is open laterally, on strike, and at depth. Surface mapping and sampling indicate the strike length could extend up to 800m. Drill highlights of J-Z breccias and veins system include:
7.85m @ 54 g/t Ag

Including 2.0m @ 144 g/t Ag

11.6m @ 93 g/t Ag

Including 8.30m @ 115 g/t Ag

Including 1.0m @ 1.0m @ 161 g/t Ag

2.49m @ 187 g/t Ag

9.0m @ 154 g/t Ag
Highlights from previously announced drill holes in the J-Z zone of hydrothermal breccia and quartz stockwork:
25.85m @ 200 g/t Ag

Including 11.5m @ 415 g/t Ag

4.07m @ 721 g/t Ag

1.9m @ 982 g/t Ag

3.0m @ 314 g/t Ag

22m @ 229 g/t Ag
October 27th, 2020: Kootenay announced results from 29 holes of the first-ever drill program at the Copalito Ag-Ay Project;
7.0m @ 7.0m @ 110.60 g/t AgEq

0.7m @ 431 g/t AgEq [307 g/t Ag, 0.154 g/t Au, 0.15% Pb+Zn and 1.27% Cu]

2.7m @ 215 AgEq g/t [101 g/t Ag, 0.70 g/t Au, and 2.28% PB + Zn]

13.1m @ 379 AgEq g/t [347 g/t Ag, 0.216 g/t Au, and 0.56%.
November 12th, 2020: Kootenay reports results from final drill holes completed at Copalito Ag-Au Project;
0.51m @ 16.95 g/t Au, 369 g/t Ag and 3.74% Pb + Zn (1,813 AgEq g/t) within

2.25m @ 6.65 g/t Au, 335 g/t Ag and 2.60% Pb + Zn (933 AgEq) and

9.05m @ 2.09 g/t Au, 124 g/t Ag and 0.80% Pb + Zn

3.3m @ 128 g/t Ag, 0.66 g/t Au and 1.17% Pb + Zn and

4.0m @ 183 g/t AgEq consisting of 109 g/t Ag, 0.84 g/t Au and 0.26% Pb + Zn.

1m @ 848 g/t Ag, 3.11 g/t Au and 6.15% Pb + Zn within:

2.25m @ 483 g/t Ag, 2.18 g/t Au and 2.86% Pb + Zn and 10m @ 128.5 g/t Ag, 0.655 g/t Au and 1.13% Pb + Zn.
Like its other projects, the Columba silver project looks to be another low-grade deposit, though at $30/oz. silver, the project begins to become economical (projects that generate approx. 15-20% IRR's). However, early indications are that Copalito can buck this trend at it is looking like it will be high-grade relative to its other projects. It is still very early days for both of these projects, but we should have a much better idea of what to expect from these projects with another year of drilling.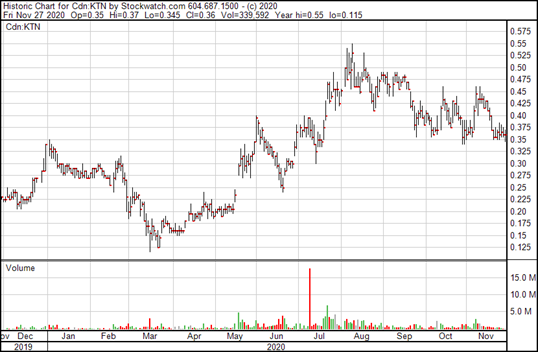 About the author