Gold has clearly broken out to the upside in recent days and silver is rallying along with it! Gold has pushed past its 200-day moving average and broke upwards through the downtrend line.
The gold price has risen 12% in US dollar terms from the year-to-date low set on March 30, 2021, of US$1683.95 to a LBMA pm price of $1887.00 on May 25, with the intra-day price on May 25 touching US$1900. Since the March 30th low, the price has set higher-highs and higher lows on each leg up! Gold and silver are making new all- time highs!
Higher highs combined with higher lows are the most important part of any price trend. Only when an asset is making both of those will more money be attracted to the trend. More importantly, the investors who own the asset will feel confident in a way that self-reinforces the price action because nothing succeeds like success.
The Upward Momentum in the Gold Price
With new highs in gold and silver, finally, it is important to note that levered investors love to see a pattern of higher-lows with higher-highs because that setup delivers the best return on borrowed money. So, if the pattern continues, we should expect acceleration when commodity trading funds get involved
The chart below, which shows the gold price since January 2019, suggests the next critical level is $1943. However, there could prove to be some resistance round the current level of US$1900, if only because there was congestion around $1900 in late 2020 (on the way down). Congestion in this case refers to the idea that some holders who paid near $1900 in 2020 but held through the trip down below $1700 will be happy to sell some or all of their position once they can get out for flat by selling at $1900.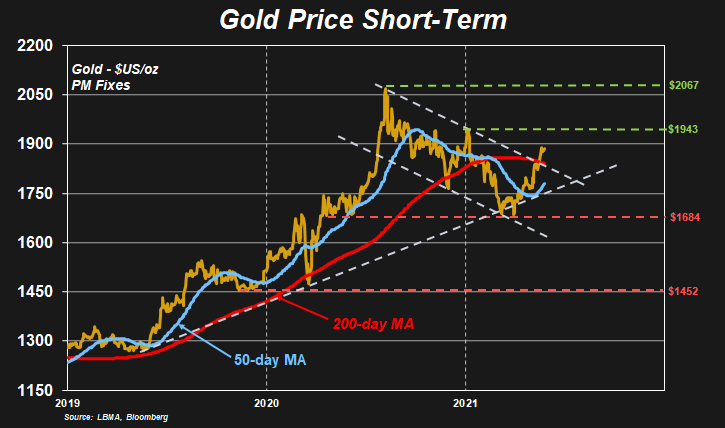 Looking at the gold price since January 2011, shown in the chart below, confirms that $1895, represents a possible point of resistance, having been a previous high point for gold at the peak in 2011.
Also, the upward momentum in the gold price has room to continue to surpass the all-time high set on August 6, 2020, at US$2067. And then to surpass US$2900, which is the inflation adjusted high of US$850 set in January 1980.
How do we equate the 1980 price to US$2907 today? We add the 1981 inflation figure adjustment onto the 1980 price of US$850. Then we add the 1982 inflation adjustment figure onto the figure we calculated for 1981. Keep going year by year until we reach 2021. The figure we use for inflation adjustment is the Consumer Price Index (CPI) published by the US Bureau of Labor Statistics, so it's fair to point out that as long as governments accurately measure inflation, our math will be correct.
If governments understate inflation, then the 1980 US$850 adjusted figure to US$2907 is too low, and although the official measure of CPI arguably could understate inflation it is one well-known gauge that has known calculation methodology, where many of the alternative methods are not well known and have an inconsistent way of being calculated.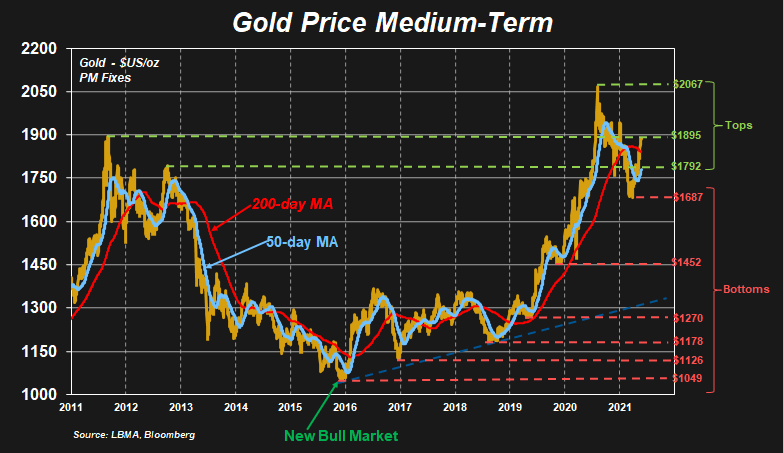 Silver Continues to Outperform Gold
Turning to silver, the silver price has rallied 15% since the year-to-date low of US$24 set on March 31, 2021, to $27.7 (May 24). And will likely surpass the US$29.6 high set on February 1, 2021, in short order.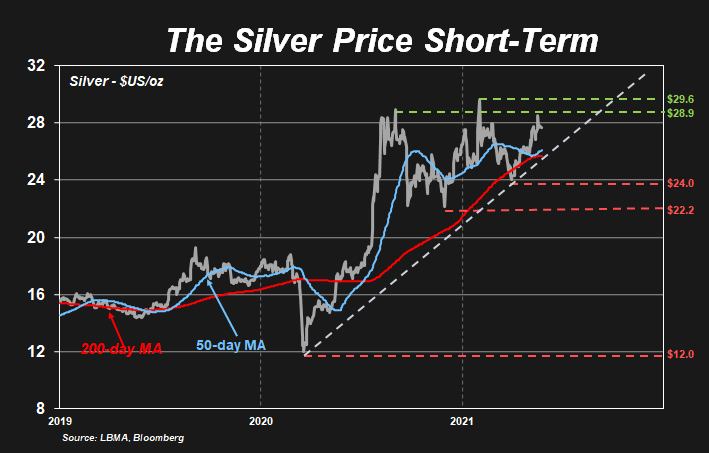 Looking further back the Silver Price has further to climb to reach its previous all-time high of US$48.7 set on May 2, 2011.
Silver's continued outperformance of gold is a strong bull market signal.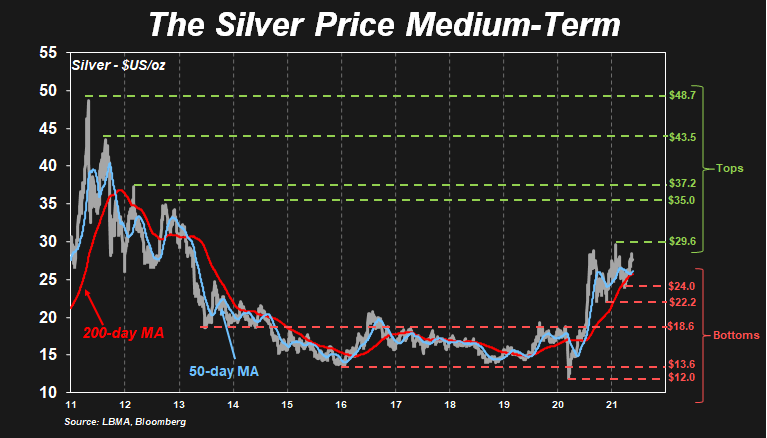 For now, we are happy to say that the declines since August 2020 have ended. We can also add that the declines ended at roughly the same time cryptocurrencies stopped going up. This must mean that both precious metals and digital currencies appeal to investors trying to preserve themselves from central bank printing, and a significant number of people will put money into whichever of the two is rising at the minute. It seems the baton passed from digital coins to physical metals amid a flurry of headwinds that will likely continue to plague the cryptocurrency market, and we think this will mean a strong 2021 for gold and silver prices. Both gold and silver are set to make new highs.
About the author