The month of July looks to be another month of remarkably strong demand for silver delivery off of COMEX. Today let's look at the history to provide some perspective.
Again, any time we talk about COMEX "delivery", we must keep two things in mind:
Until March 2020, the COMEX was rarely used as a delivery vehicle, with only 1-2% of outstanding open interest regularly standing for "delivery" in both COMEX silver and COMEX gold.

"Delivery" often only amounted to nothing more than a shuffling over warehouse receipts and warrants, with little physical metal ever moving or leaving the depository warehouses.
All of that changed, though, in March 2020. That's when the spot and futures markets disconnected, and the CME Group was forced to promote the COMEX as a physical delivery option in order to maintain the legitimacy of the price discovered there through the trading of leveraged derivatives.
We wrote about these changes on multiple occasions last year. Here are just two samples:
So, now, as the delivery process for the Jul21 COMEX silver contract is set to begin, it seems a good time to check the history of silver deliveries and provide some perspective regarding the month ahead.
First off, understand that total COMEX silver deliveries have always been very light. Again, the COMEX has never been a delivery vehicle, and the annual volume of deliveries underscores that point.
2015: 16,924 total deliveries for 84,620,000 ounces

2016: 16,369 total deliveries for 81,845,000 ounces

2017: 31,551 total deliveries for 157,755,000 ounces

2018: 36,968 total deliveries for 184,840,000 ounces

2019: 33,830 total deliveries for 169,150,000 ounces
And then came 2020…
2020: 58,471 total deliveries for 292,355,000 ounces
You can clearly see the trend here. Delivery demand doubled in the period 2017-2019 and then exploded higher in 2020 to over 35% of annual mine supply.
How are things going so far in 2021? Deliveries are progressing at an even faster pace than 2020. Through just the first six months of the year, COMEX silver deliveries total 28,623 contracts for 143,115,000 ounces, and now we stand on the edge of July, which is typically a very busy month.
As of Monday evening, with one day to go before the delivery process begins, there were still 19,759 Jul21 contracts open on COMEX. This very likely indicates that the initial amount left open and "standing for delivery" as the month begins will be over 10,000 and perhaps as high as 14,000. That would mean up to another 70,000,000 ounces of offtake, and if that's the case then July will approach the record totals seen in July of last year, marking a continuation of the trend and a march toward a new annual record of total deliveries here in 2021.
And why is this important? Because even though price is still "discovered" through the trading of the highly leveraged derivative contracts, the scramble for physical metal decreases the availability and opportunity for The Banks to hedge control short the price at their discretion.
For example, during that record-setting delivery month of July 2020—when a total of 16,834 Jul20 COMEX silver contracts remained open on First Notice Day—and over the course of the month, a total of 17,294 deliveries were made, and price finally shot higher. After being mired in a range between $17 and $19 for six weeks, price moved from $20 to $29 in less than three weeks. See below: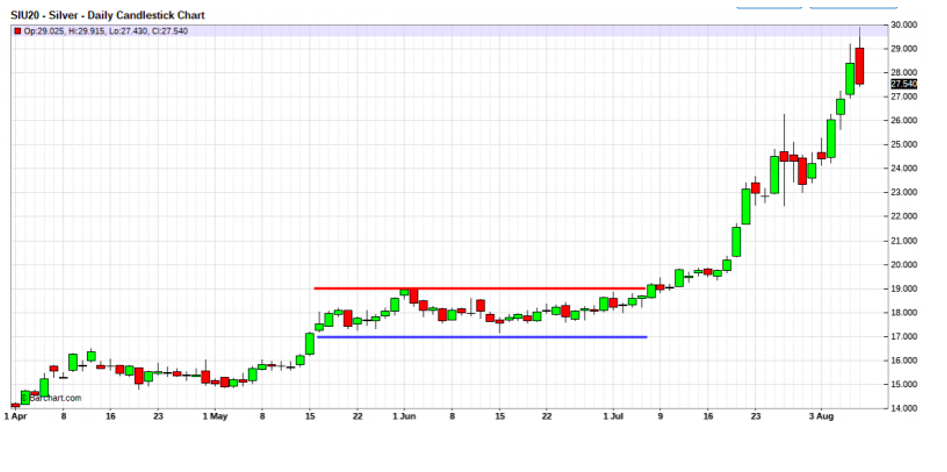 And keep in mind that nearly all of this COMEX silver offtake surge was BEFORE the arrival of WallStreetSilver and the growing movement by retail investors to accumulate, stack, and store physical silver away from the hands of the dirty, scheming bullion banks. Another #SilverSqueeze is being discussed for the upcoming holiday weekend. Might that have an impact in July, too?
Regardless, global demand for silver continues at a frenetic pace, with total investment and industrial demand combining this year to exceed global mine supply. That's a dynamic that will support price and eventually lead to another rally, even within the existing fractional reserve and digital derivative pricing scheme.
About the author