After spending 5 years in a $300 price range, palladium decided in December 2016 to put in a long-term bottom around the time that gold and silver were doing something similar.
Then, again like gold and silver at the time, it rallied, moving to a several years' high around $850... but kept on going. Gold and silver faded away for the next 18 months, putting in a double bottom in late 2018.
By the way, during this entire time, David Morgan, provided guidance for his subscribers – be they holders of The Morgan Report Premium, Mastermind, or Insiders' Memberships – in how to profitably trade these multiple hundred-dollar swings via futures, options, stocks, or physical palladium rounds and bullion itself.
Now look at the nearby daily palladium chart. Do you think it would have been easy to "take a profit" – just about anywhere along the way?
Silver's Supply-Demand Metrics look to be building the same fundamental – and technical picture as palladium.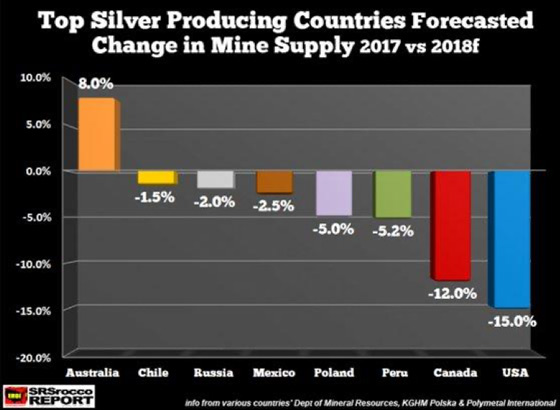 The top 10 silver producing countries are Peru, Bolivia, Australia, Argentina, Mexico, Chile, Poland, China, Russia and Guatemala. And get this... in nine of these countries, silver production has been falling for the past 4 consecutive years!
Supply from scrap sources is at a 20-year low.
Silver fabrication (manufacturing) demand is just below record levels.
Solar panels' silver demand has risen for 7 straight years (2013-2019).
Primary silver producer grams/ton yield has fallen by 50% in the last decade.
And the demand clincher? About 75% of the world's annual new silver supply comes from base metals' production – copper, lead, and zinc. When, not if, investment demand spikes in competition with industrial needs, there's going to be a problem...
When the price of silver moves, you can't ratchet up the production from the world's largest gold, copper and lead-zinc mines to pick up more silver. The only place you have to take up the slack on the supply side is [the small number of] primary silver mines.
In the case of American Silver Eagles, seigniorage – what it costs the U.S. Mint to produce a coin – has already risen by 50% in the last decade, so you can be sure this seldom-considered price factor will continue rising too.
Jeff Clark, one of the best-informed and most articulate analysts in the space, calls the current silver price "A bottle rocket awaiting liftoff."
He says: "Supply and demand in the silver market are going in different directions. I cannot find a period in modern history where (they) were more out of balance than now. With the setup currently in place, the wick that leads to silver's rise sits precariously by a roaring fire."