This week saw higher metal prices with the mining stocks performing well. Silver had an incredible week, being up >$1/oz. for two consecutive days. Silver reached on all-time high and had its best week in a long time. Like two weeks ago, there were countless financings for junior stocks again this week, which are listed below. Earnings should start to be reported in two weeks or so. Some companies will report great numbers and others not so much, all depending on the impact of mining suspensions (if any) for every company. Regardless, Q3 numbers will be an absolute blow-out.
$AGC.V, $ATY.V, $AUN.V, $BRC.V, $CGC.V, $ELY.V, $EDV.TO, $ERD.TO, $GCM.TO, $GRSL.V, $IAG, $KTN.V, $KORE.V, $LIO.V, $MKO.V, $PAAS, $PG.TO, $ROXG.TO, $SVM.TO, $SKE.V, $AUY
There was another round of financings this week as investor interest is very strong. This include:
Spanish Mountain Gold $5m private placement (PP) with Eric Sprott.

Leocor Ventures announced a $2.4m PP.

Boreal Metals announced a $2m PP.

Discovery Harbour Resources closed a fully subscribed $3m PP.

Aurcana announced an over-subscribed and increased PP to $12.25m.

VanGold Mining announced a $2.45m placement, which was increased to $3.8m.

Revival Gold announced an increase bought deal financing to $13m.

West Vault Mining (Previously West Kirkland) announced a placement to raise up to $15.7m to consolidate Hasbrouck Gold Project.

Talisker Resources announced a $15m bought deal PP.

Blackrock, on the heels of putting out some excellent drill results, announced a $7.5m PP, led by a $5m investment from Eric Sprott.

Cartier Resources announced $5m PP of flow-through shares.

Reunion Gold announced $4m PP.

Lion One Metals announced a $20m bought deal PP. Each unit will consist of one common share and ½ of one common share purchase warrant at C$2.35/share for a 12-month period. The half warrant isn't all that bad as the term is short and the strike price is 32% higher than it is on the date announced (July 23rd).

Excellon Resources increases financing to $15m.

BeMetals announced $6m PP.

Sonoro Metals $5m PP.

African Gold Group $5m PP.

Rockhaven Resources PP.

Maple Gold $4m financing.

Great Thunder Gold announced $2.6m PP, Eric Sprott increases investment.

Erdene Announced $20m financing led by $15m investment from Eric Sprott
Amarillo Gold: entered into an agreement with Mackie Research Capital Corporation for a $35.7 million private placement and a $21.5 million bought deal short form prospectus public offering for total gross proceeds of $57.2 million. The Company will use the net proceeds from the offerings to build the Posse Gold Mine and advance the Lavras do Sul exploration project, both in Brazil, and for working capital and general corporate purposes. This equity financing secures the equity portion of financing for the construction of the Posse Gold Project. The rest, of course, will be financed via debt. Like so many financings lately, Eric Sprott is leading this. Eric Sprott and Baccarat Trade Investments Ltd have committed to and subscribed for the whole private placement. This is a big vote of confidence in would could be Brazil's next gold mine [this or Equinox Gold's Santa Luz project].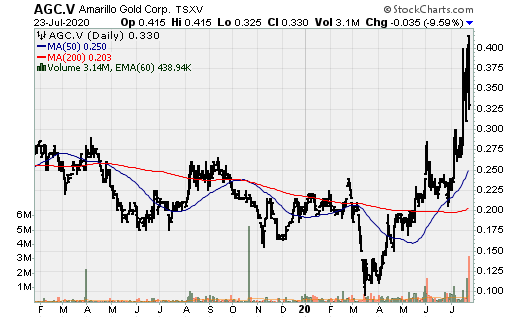 Atico: Announced three holes from its ongoing drill program at its La Plata precious metals-rich VMS project in Ecuador. La Plata drill highlights include:
8.25m @ 14.6 g/t Au, 303 g/t Ag, 0.34% Cu, and 2.10% Zn

3.11m @ 16.55 g/t Au, 157 g/t Ag, 10.67% Cu, and 7.64% Zn
Intercepted additional high-grade zones including 1.31m @ 32.9 g/t Au, 237 g/t Ag, 16.25% Cu, and 2.16% Zn.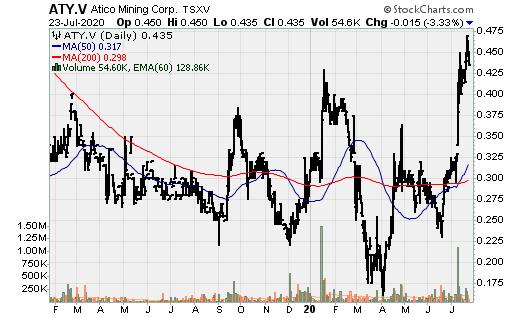 Aurcana: Flush with cash, as noted from the above financing, Aurcana will use the proceeds to advance its Revenue-Virginius North area in Colorado. Underground development is on-going and the proceeds will be targeted toward placing orders for long lead time equipment and completing the rehabilitation of the emergency escapeway. It also commenced a diamond drill program targeting the Virginius vein extension.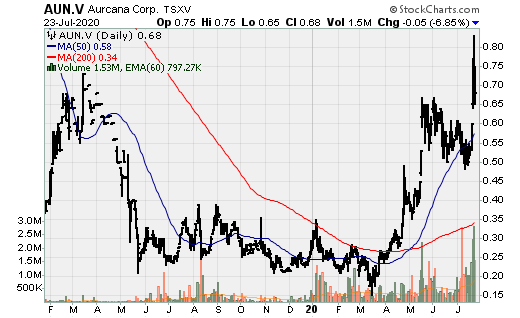 Blackrock: Announced initial drill results from the Victor target on its Tonopah West project in the Walker Lane Trend of Western Nevada. The following are some highlights from six drill holes:
3m @ 221 g/t Ag + 2.435 g/t Au

3.04m @ 1,046 g/t Ag + 11.51 g/t Au

28.96m @ 435 g/t Ag + 5.29 g/t Au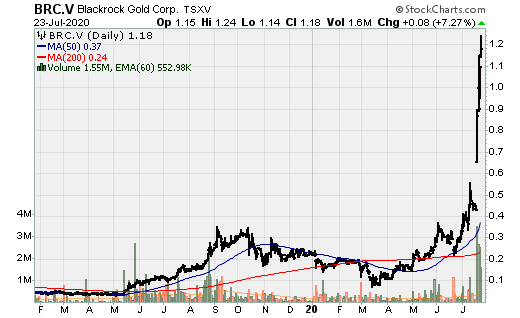 Caldas Gold: The company announced bought deal private placement of special warrants last week of C$45m. This week the company increased that amount to C$50. The company also announced that Gran Colombia, the company's principal shareholder, has agreed to purchase 8.89m special warrants in the offering for C$20m in order to maintain an equity interest above 50%. Upon exercise of the special warrants, Gran Colombia would hold a 53.6% equity interest.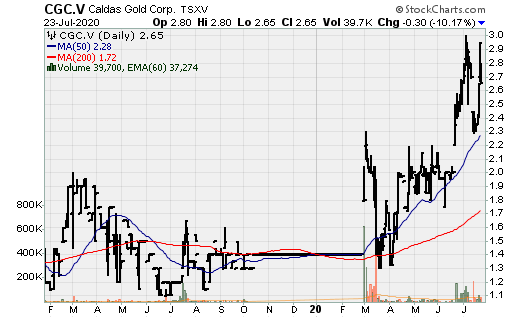 Ely Gold: The company increased its royalty at Lincoln Hill. The additional 1% NSR on Lincoln Hill, located in Pershing County, Nevada, operated by Coeur Mining, increases Ely's total royalty to a 2.0% NSR. This is one of the more important assets to Ely. While not yet cash flowing, with the permitting completed on the leach pad expansion at Rochester, the higher-grade Lincoln Ore will be in close proximity to the operations and should extend the mine life at Rochester.
Endeavour Mining: Continues to demonstrate strong exploration success, including a big increase in resources at the high-grade Le Plaque deposit at Ity. This week, the company announced an increase of 554k oz. in M&I resources at Hounde. With reserves at year end 2019 of over 2.1m oz., this addition to M&I increased resources [exclusive of reserves] to 2.28m oz. and total resources pushing 5m oz. This addition is from the Kari area, which now accounts for 57% of M&I resources, with 2.5m oz. (indicated) discovered over the past 3yrs. The Kari area hosts higher-grade deposits, with 84% of indicated resources grading more than 2.0 g/t, amounting to 2.1m oz. A maiden reserve estimate for Kari West, along with an updated LOM plan, are expected to be published in Q3 followed by maiden reserves for Kari Center and Kari Gap in Q4.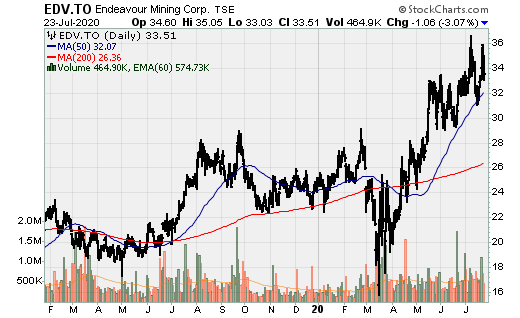 Erdene: Published a positive feasibility study (FS) for the Bayan Khundii Gold Project. Using a $1,400/oz. gold price deck, the NPV5 is $100m with an IRR of 42%. Those numbers improve considerably using an $1,800/oz. price deck. The NPV5 more than doubles to $216m and the IRR increases to a staggering 77%. Initial capital costs are very low at $59m as well as the cost structure with AISC of $733/oz. Initially, the project is 8yrs [one-year pre-production, six years of operations, and one-year mine closure]. Average annual production will be 63.5k oz. Au with 77.6k oz. in year 2. There are nearby high-grade resources and newer discoveries, giving the company growth options in the future.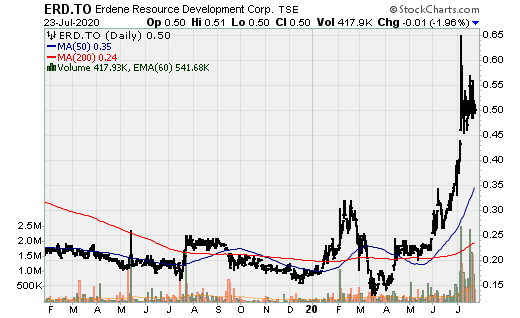 Gran Colombia: Released high-grade drill results from the on-going 2020 drill program at Segovia, including the discovery of a new high-grade zone down-dip at its fourth mine, Carla. The company announced intercepts from the latest 72 diamond drill holes totaling 10.5k meters, or 1/3rd of the 2020 in-mine and near-mine drilling program. The company also announced assay results from three additional kick-off diamond drill holes (1,707m) from the on-going directional drill program at the El Silencio deep zone. Some highlights from the drill results include:
Providencia: 0.95m @ 111.79 g/t Au

Sandra K: 0.50m @ 45.63 g/t Au + 78.4 g/t Ag

Sandra K: 0.48m @ 34 g/t Au + 182 g/t Ag

El Silencio: 1m @ 70 g/t Au + 184 g/t Ag

El Silencio: 0.72m @ 29.6 g/t Au + 41.6 g/t Ag

Carla: 0.66m @ 59 g/t Au + 48 g/t Ag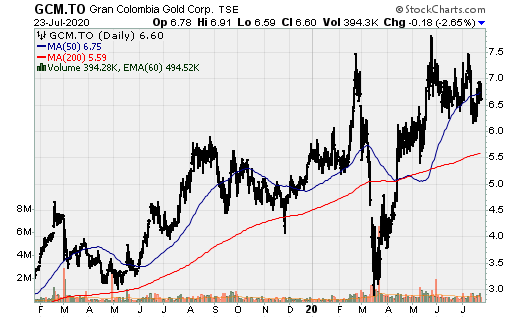 GR Silver Mining: Announced an extension to the Plomosas vein and reports high-grade silver drill results. The highlights of this press release is 5.4m @ 1,096 g/t Ag, 0.3% Pb, and 0.2% Zn. The drill results in this release confirmed the continuity f the silver mineralized system for at least 500m along strike. Other highlights from the July 2020 news release include:
13.2m @ 239 g/t Ag

3.5m @ 169 g/t Ag

4.4m @ 161 g/t Ag

2m @ 928 g/t Ag

10m @ 328 g/t Ag + 0.2 g/t Au

5m @ 147 g/t Ag + 0.9 g/t Au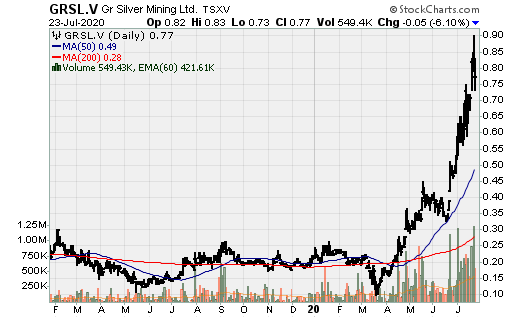 IAMGOLD: The company will proceed with the construction of the Cote Gold project in Ontario, Canada. This project, when developed, will contribute significantly to IAMGOLD's production profile and put downward pressure on companywide AISC. It has also started preliminary construction on the small, far less capital intensive Boto project. The Cote Gold project, in which it owns a 64.75% interest, will produce on average 372k oz. Au [100% basis & 240k oz. attributable] for 18yrs with cash costs and AISC of $606/oz. and $703/oz. Initial capital requirements are estimated at $1.15b [$745m attributable]. The Boto Gold project is a smaller operation, in which IAMGOLD holds a 90% interest. Once in production, average annual production is estimated at 130k oz. Au [160k oz. p.a. over the first 6yrs] with cash costs and AISC of $778/oz. and $842/oz. Note both these cost structures as companywide AISC in 2019 was over $1,100/oz. Early construction has also commenced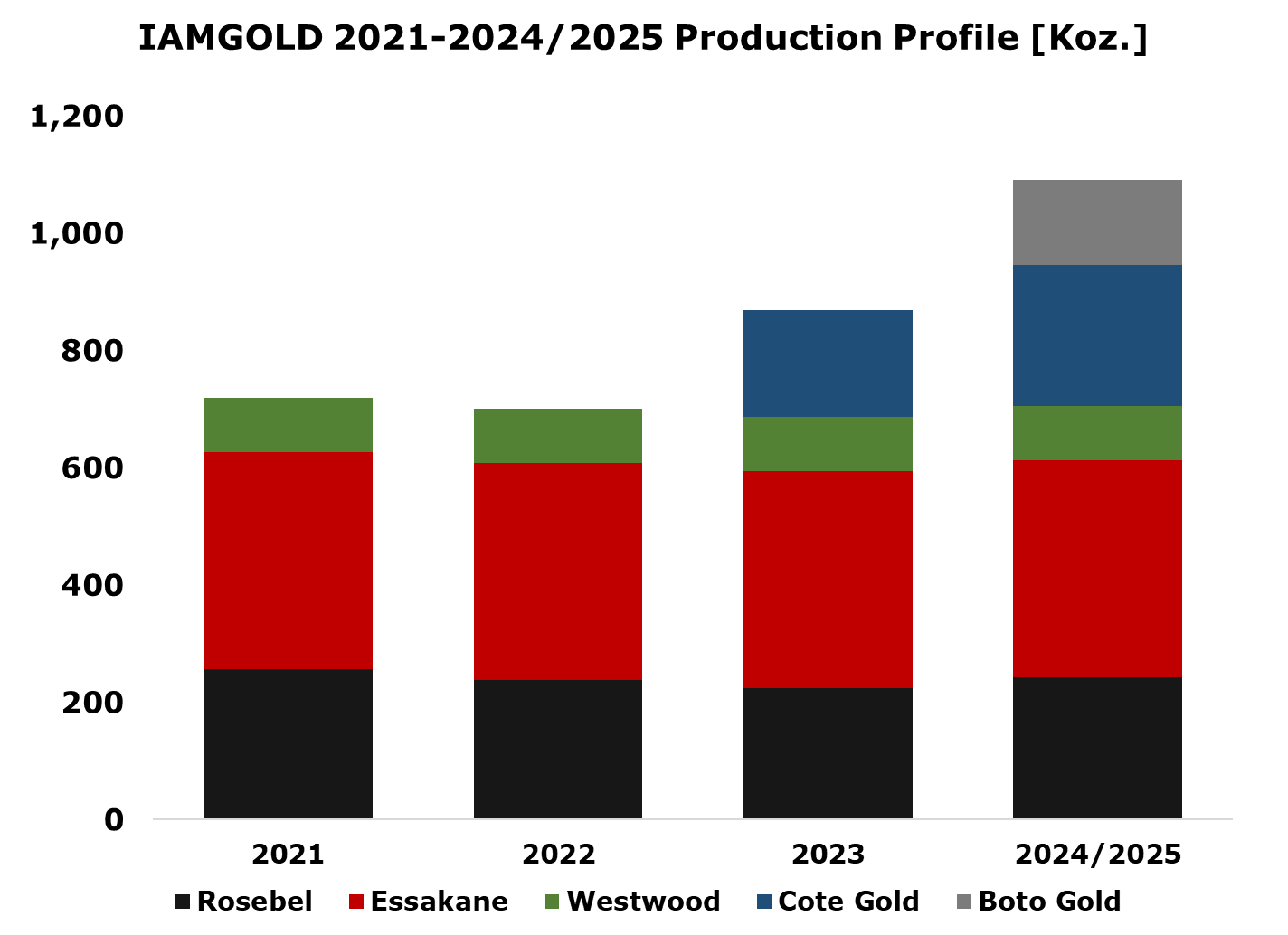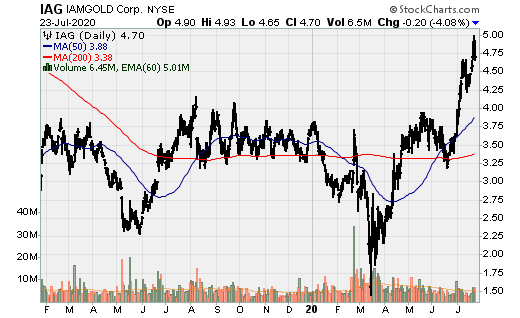 Kootenay Silver: The company's exploration efforts have been quite successful at its two newer properties, both of which are much higher grade than the project(s) they've focused on over recent years. This year, we've seen a batch of solid exploration results from its Columba silver project and a few from its Copalito silver-gold project.
The company announced three new drill holes from Copalito. These are the second, third, and fourth core holes to be announced since the start of the 3k meter drill campaign designed to target high-grade silver and gold showings of the 6 primary veins exposed at surface. These include 4.3m of 1.69 g/t Au + 1.7m of 3.02 g/t Au, 3.2m of 1,297 g/t Ag + 0.285 g/t Au and 13.1m of 347 g/t Ag and 0.216 g/t Au.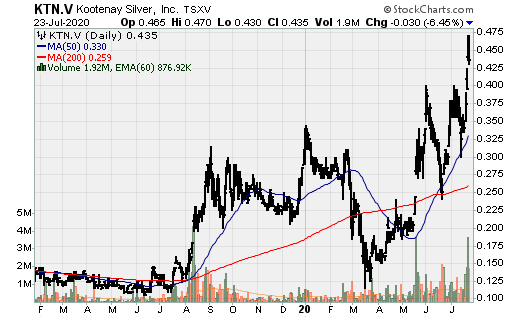 KORE Mining: Closed the first tranche of the $7.5m strategic investment with Eric Sprott. The company announced some impressive drill results. Highlights include:
11m @ 10 g/t Au

98m @ 1.0 g/t Au

51m @ 1.6 g/t Au
There is a 5k meter program underway to test additional two Km's of strike. KORE's objective is to upgrade the current FG Gold resource, make down-dip discoveries and demonstrate the district scale of the FG Gold project.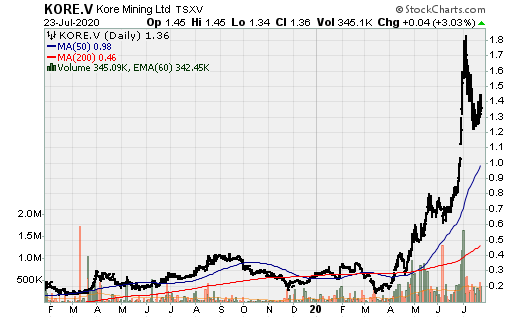 Lion One Metals: The company discovered Tuvatu style lodes at Banana Creek and accelerates drilling. Banana Creek is 3km northeast of the Tuvatu resource and is a new, high-priority greenfield targets situated in Lion One's recently granted Navilawa tenement. Diamond drill rig #2 recently commenced drilling new targets within the Navilawa tenement. Biliwi is the first target to be tested in this tenement. A third diamond rig recently purchased by the company is currently in transit from South Korea and arrival is expected in a few weeks at which point it will join rig #1 in undertaking the Tuvatu step-out and feeder test program. Two holes at Tuvatu West appear to have encountered high level splay structures, possibly above a deeper feeder structure. The company plans more drilling at a deeper level in the area later this year.
In a separate news release, the company's feeder drill hole encountered significant gold mineralization in drill hole TUDDH500. The hole is west oriented at an inclination of 65 degrees and designed to undercut the Tuvatu lode network where the loads are assumed to connect to form a possible feeder structure. A deep-rooted, controlled source audio-magnetotelluric gradient is evident in this area providing technical report supporting this hypothesis. A network of veins, measuring up to two cm wide has been intercepted. Some displayed coarse clots of visible gold particularly those at a depth of 583m. Drilling of this hole will be continued to its planned termination at 1,000m once it has passed across the entire feeder target. This is an important milestone as it is becoming increasingly clear, this is a large high-grade system.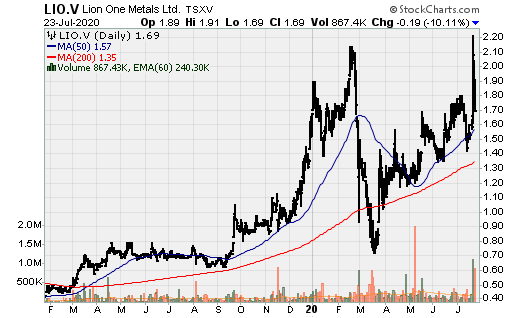 Mako Mining: There are two companies focused on Nicaragua, Mako and Calibre Mining. Mako announced drill results including 4.5m @ 21.61 g/t Au and outside of the 2015 PEA limits. Other drill results in this press release include 2.75m @ 5.37 g/t Au and 20 g/t Ag, 1.03m @ 20.40 g/t Au and 49.3 g/t Ag, 1.84m @ 9.79 g/t Au, 1.98m @ 27.7 g/t Au. Mako, nearing production, has considerable exploration upside both from a production standpoint and a material increase in mine life. Should Calibre continue to execute on its objectives, San Albino would make a great asset to add to El Limon, La Libertad, and a couple development projects.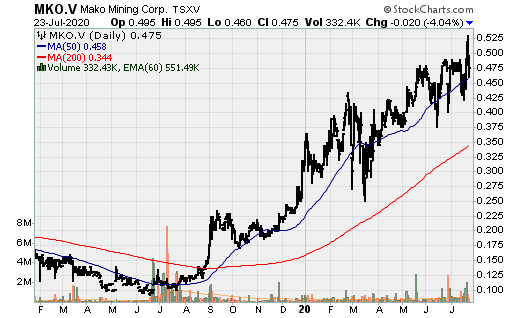 Pan-American Silver: Suspended two silver operations in Peru as several workers recently tested positive for CV19. Reduced workforces will conduct care & maintenance activities at Huaron and Morococha until it is determined that normal operations can resume safely.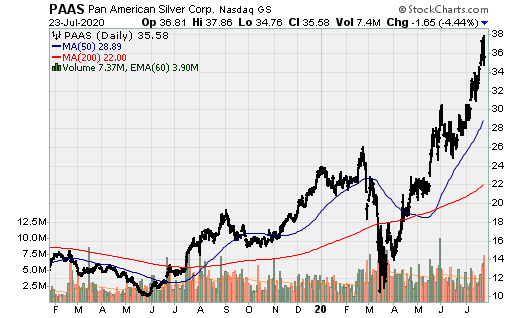 Premier Gold: Released Q2 production from its 40%-owned South Arturo in Nevada and also provided an update on the restart of the 100% owned Mercedes Mine in Mexico. South Arturo production 4,765 oz. Mining activities re-commenced in June at Mercedes with development ore stockpiled prior to Q3 processing. Premier has an excellent stable of development assets, hence the high market capitalization.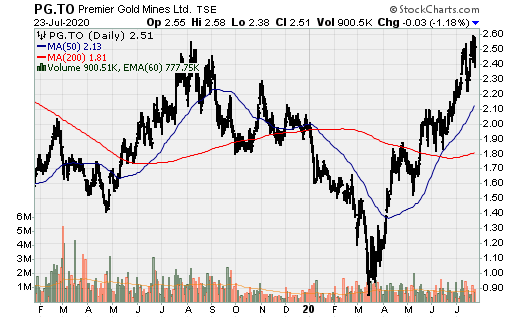 Roxgold: Returns more high-grade exploration results from its Seguela gold project. Highlights from reverse circulation and diamond drilling include:
14m @ 13.3 g/t Au

35m @ 5.5 g/t Au

5m @ 35.6 g/t Au

4m @ 6.8 g/t Au

10m 2 3.9 g/t Au

5m @ 7.5 g/t Au
This continued exploration success will help outline a larger, more economic project relative to PEA for the feasibility study (FS), which will be completed early next year. This will be followed by a construction decision in the 1H 2021.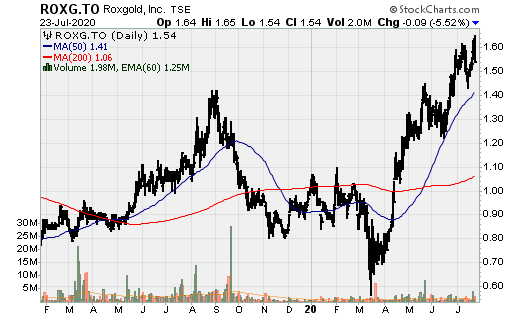 Silvercorp Metals: The company reported its first underground drill hole at the DCG mine in the Ying Mining district. The company intercepted 1.90m @ 15 g/t Au. This is exciting as Silvercorp has tried to grow via acquisitions and garner exposure to gold as well but was outbid for Guyana Goldfields, though the company will likely look to diversify out of China over the next year or so. In late 2018, the company decided to develop the DCG mine and bring it into production. To date, 1,670m of a 4.2m wide by 3.8m high access ramp has been developed and the remaining 95m should be completed by mid-August, allowing for mining late this year. Personally, I think a great fit would be Gold-X mining. Toroparu is a better asset than Aurora underground. Roughly same annual production, much longer mine life, much lower cost.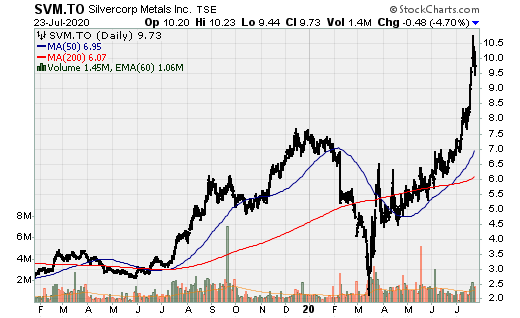 Skeena Resources: Announces maiden resource estimate for its Snip Gold project in the golden triangle. It already has delineating a large resource at Eskay Creek along with a very promising PEA. The underground resource estimate (Indicated) includes 244k oz. Au within 539k tons at an average grade of 14 g/t Au. Resources in the inferred category include 402k oz. Au hosted within 942k oz. tons at an average grade of 13.3 g/t.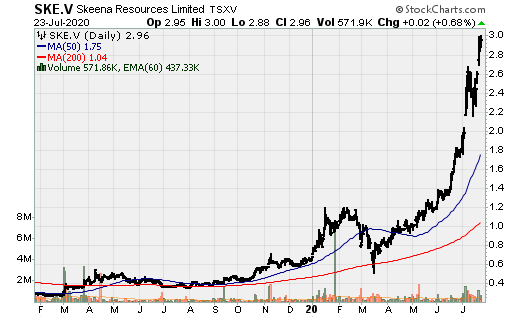 Summa Silver Corp: Announced an $8m private placement, with a lead order of $5m from Eric Sprott. Each Unit will be comprised of one common share of the company and one-half of one common share purchase warrant. Each full warrant shall be exercisable to acquire one Common Share at a price of $1.75 per Warrant Share for a period of 24 months from the closing of the offering. If the closing price of the common shares is at a price equal to or greater than $3.00 for a period of ten consecutive trading days, Summa will have the right to accelerate the expiry date of the warrants by giving notice, via a news release, to the holders of the Warrants that the Warrants will expire on the date that is 30 days after the issuance of said news release.
Yamana Gold: Reported Q2 2020 financial results. The company generated strong [but not record] cash flow of $118m before changes in non-cash working capital. Normalized for $19.2m in outflows associated with CV19 suspensions, standby, protocols, and other costs. Adjusted for this, operating cash flow would have been $137.3m, with free cash flow generation of $60.3m. Net Debt decreased by $101.1m in the quarter, now standing at $768m. Production was hit by government mandated suspensions at a couple operations but for short periods of time. Gold production totaled 164k oz., while silver production of 2m oz. for AuEq production of 183.59k oz. AISC was elevated in the quarter as $1,125/oz. AuEq oz. vs. $986/oz. in the comparable period in 2019. Cash costs remained relatively flat but higher sustaining capital resulted in a higher AISC. The company also increased its dividend by a further 12%, the fourth increase in the past year to $0.07/share. Over the past year, the cumulative increase in the dividend is 250%. The company continues to advance Agua Rica and advanced the integration of the Agua Rica project with Minera Alumbrera pursuant to the integration agreement. Agua Rica would be developed and operated using the existing infrastructure and facilities of Alumbrera. The integration carries far less development risk and is expected to be managed as a combined operation.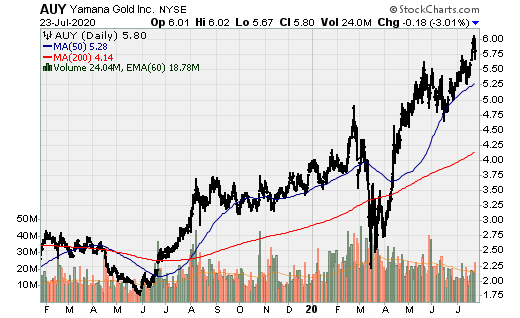 About the author