With three very impressive advanced stage silver projects coming online over the next three-four years (Juancipio: 2020, Las Chispas: 2022, and Corani: 2023/2024), what comes after? This leaves very few silver projects to be excited about. There are a very large number of higher-grade deposits that are relatively small (i.e. those owned by Alexco Resource and Aurcana) and a larger number of low-grade uneconomic deposits below $22-$24/oz. Ag (i.e. Pitarilla). One exceptionally quality project, however, is New Pacific's Silver Sand project, which, from the very start of exploration has illustrated continuous impressive results. Although only a maiden resource estimate (MRE) has been published, it has yielded such impressive results that the company is moving the project forward to a PEA level (inclusive of additional drilling (approx. 20-25k meters) which will increase the resource), while continuing with exploration and planning to expand upon a newly discovered zone as well as high priority targets in this emerging silver district. In 2020, total drilling should be about 50% of 2019 as the company focuses on advancing the project toward production as opposed to drilling out a larger resource.
New Pacific's Silver Sand project, when all is said and done, will likely prove to be world class, in terms of scale and economics. The main deposit has the potential to be one of multiple deposits on what is looking like a district scale project. While only a relatively small amount of exploration has taken place, there is no need to drill the project out aggressively simply for the sake of delineating a resource that is large as possible. That approach usually results in continued shareholder dilution. Instead, it is better to take the approach New Pacific has taken and advance the project towards production while also drilling albeit far less aggressively and fund aggressive exploration in the future from cash flow generation. After all, the initial resource estimate is large enough to build a substantial silver operation.
The vast potential of New Pacific's Silver Sands project and the surrounding land package hasn't gone unnoticed as the stock price was ahead of the available data. Further, its earlier stage exploration project, Silverstrike shares many similarities to Silver Sand and the mammoth Bolivian silver project, Cerro Rico. There is ample opportunity, given what is known about the geological setting but it isn't worth prognosticating on this asset this early.
Rui Feng, CEO and Chairman of Silvercorp initially went to Bolivia looking at the Silver Sand project. He recognized a great opportunity and his company (Silvercorp) make a significant investment in the company (+28%) in addition to making a large person investment himself (+7%). Shortly thereafter, Pan-American Silver also made a material investment in the company (+16.8%). Dr. Rui Feng was the Chairman and CEO of New Pacific Metals as well. The company recently announced Dr. Rui Feng has stepped aside as CEO and appointed its COO, Dr. Mark Cruise as the new CEO. Two possible reasons for this is that Silvercorp had planned to acquire New Pacific Metals but this is no-longer the case based on recent actions by the company, with Silvercorps bid to acquire Guyana Goldfields, the company wants to diversify into gold as well as silver. Of course, this may also mean nothing with Silvercorp eventually planning to make a bid for the company. Regardless, with two large silver companies having significant stakes in the company is further evidence of the quality of this project.  
The company has also added impressive people to the mgmt. team, BOD, and advisors, notably Dr. Peter Megaw (Mr. Silver) as he is responsible for some of the best silver discoveries in Mexico. The biggest of note is the massive Juanicipio project, which he discovered on the first drill hole. He wouldn't waste his time advising a company that wasn't on its way to identifying and building out a large silver deposit and operation.
Drilling to date has been wildly successfully, with approx. 43k meters drilled in 2019, and a total of 92k meters drilled since the property was acquired. It hit so many significant large intervals, the company was able to publish a very impressive maiden resource estimate (MRE). The company recognized the district scale potential of the project some time ago and has since been trying to aggressively expand its land package, which it has done. This amount of drilling relative to the resource size is little but has been extremely efficient, another indication of how great this project is. Most silver companies dream of delineating 190m oz. in total silver resource over the course of an assets life and New Pacific accomplished that in its inaugural estimate.
| | | | |
| --- | --- | --- | --- |
| CATEGORY | TONS (MT) | AG (G/T) | AG (MOZ) |
| MEASURED | 8.4 | 159 | 43.05 |
| INDICATED | 26.99 | 130 | 112.81 |
| M&I | 35.39 | 137 | 155.86 |
| INFERRED | 9.84 | 112 | 35.55 |
| GLOBAL RESOURCE | 80.62 | 132 | 191.41 |
It is worth noting that the bulk of the initial resource fell into the M&I category, which is quite unusual as resources, or the bulk thereof, are generally first categorized as Inferred. In other words, there is no real need for any material amount of infill/definition drilling prior to upgrading resources to reserves. In 2020, the primary focus won't be on exploration, rather more metallurgical work, engineering work, developing a process flow-sheet, among other things to advance and publish a preliminary economic assessment (PEA). That is not to say the company won't be able to significantly increase the size of the resource. Additional drilling will be far more efficient as will be primarily focused on expansion, not infill, for the time being.
Silver Sand: Just 36km away is Cerro Rico, one of the largest silver deposits globally. The cutoff grade used in the MRE is 45 g/t Ag, however it is interesting to note that raising the cutoff grade to 60 g/t Ag has very little negative impact on minable tonnes in the resource. This is a very unique deposit in that the only payable metal is silver, something rarely seen today. The diagram shows New Pacific's land package, with the main deposit in blue and the mining production contract (MPC) with COMIBOL in purple.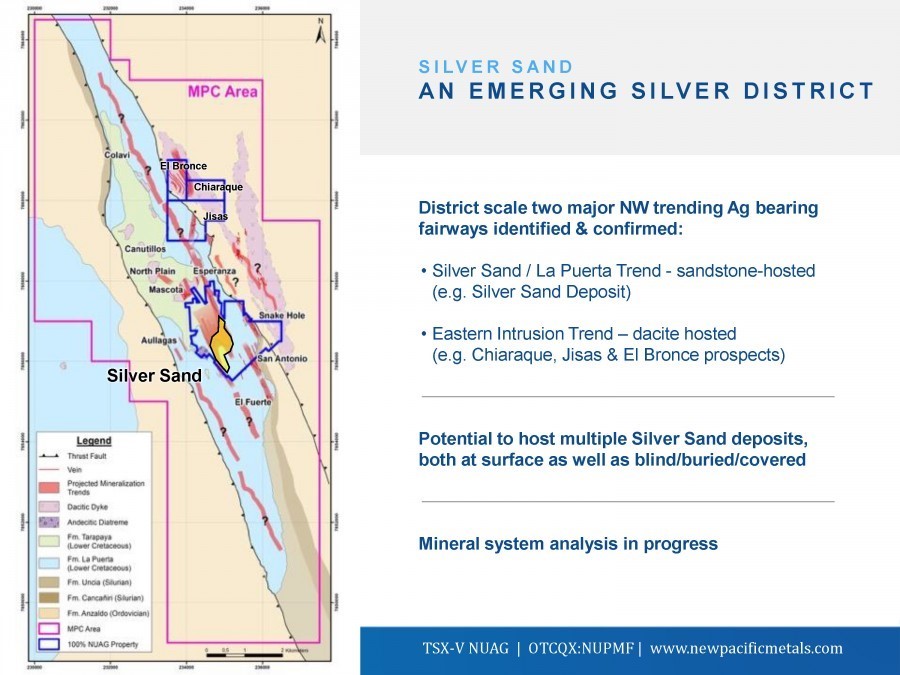 The deposit also has excellent metallurgy based upon testing thus far, which have illustrated recovery rates up to 97% for the various oxide, sulphide, and transition mineral areas. Composite samples of sulphide, transition, and oxide mineralization were submitted for laboratory-scale flotation testing and achieved up to 96%, 86.8% and 92% silver recovery rates. Samples of the same were also submitted for bottle roll cyanidation testing and achieved up to 96.7%, 97% and 96.3% silver extraction.  For the Conceptual Pit constraining the MRE, AMC, the independent engineering consulting group assumed recoveries of 90%.
The M&I grade is relatively high for a near surface deposit (max depth for all practical purposes is 250m, that is to say 70% of total resources are within 250m from surface) at 137 g/t. Silver grades, especially over the last century and recent decades have fallen off a cliff for lack of a better term such that the average silver grade for underground operations is no longer in the high 200's or low 300's, rather 175-185 g/t. Underground grades tend to be considerably higher relative to those near surface. In other words, the M&I resource grade of 137 g/t Ag is relatively high grade because its near surface vs. underground which are higher cost to extract the mineralization.
In this case, the M&I (O/P) grade is just 40 g/t Ag less relative to the average (U/G). There is underground exploration potential (which is looking like there will be additional mineralization found) but for the sake of open-pit mining, the strip ratio (waste: ore) is very healthy, estimated at roughly 4:1 based on the data available but this is subject to change and really won't be definitively known for some time.
There are a number of drill ready targets for 2020 such as the recent Snake Hole discovery, extensions to the Silver Sand deposit which remains open to the N, S and at depth. Additionally, the Silver Sand North Block located approx. 3 to 4km above or N of the Silver Sand deposit is another exploration target area that the company believes will provide new discovery potential.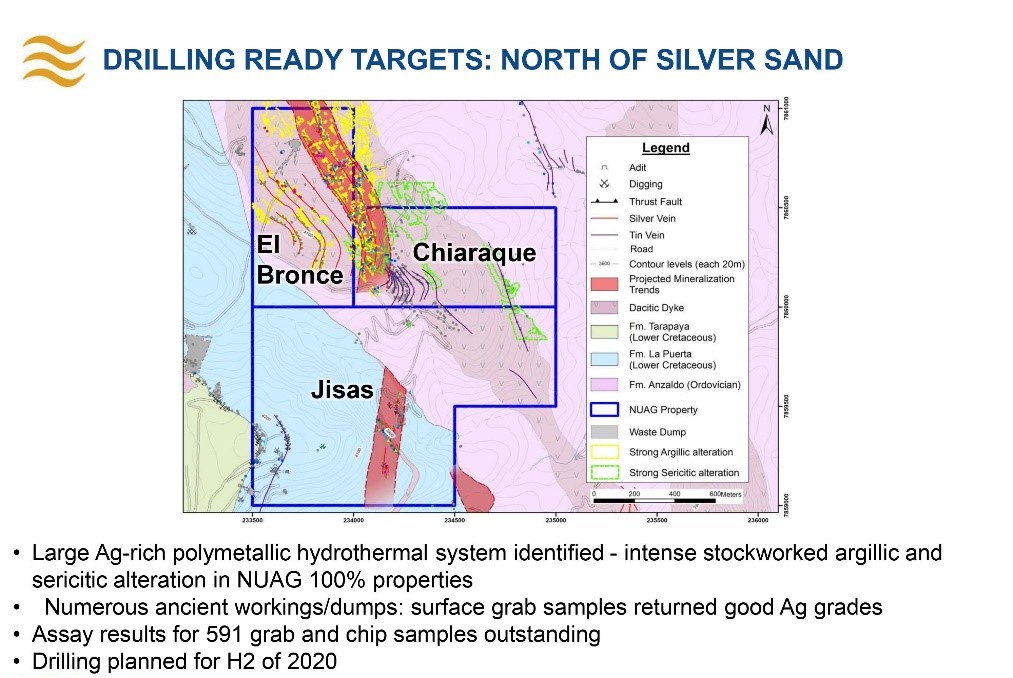 Until additional technical reports are published, namely the PEA and PFS, the primary stock price catalysts will be changes in the silver prices, recommencement of drilling (once the mandated suspension of mining activities is over), and of course drill results. There is a fair degree of low hanging fruit in two areas specifically and a recently discovered new zone.
The first area immediately surrounds and encompasses the pit and has been drilled between 25m and 50m distances. The company considers this area to contain potential tonnage range of 7mt to 15Mt with grades ranging from 85-150 g/t Ag. The area requires additional engineering studies to be included in any future mining plans.  The second area occurs at the southern end (left side) and has received less exploration to date. The company has defined additional tonnages from 10Mt to 20Mt with grades ranging from 85 g/t Ag to 150 g/t Ag exploration target surrounding and below the currently defined resource. Drilling has intersected mineralization over similar widths and intervals of the main deposit; however, drill density is insufficient to warrant inclusion to Inferred resources. This could easily increase resources by 40-75m oz., and had it been included in the MRE, the company would have published an MRE with a global resource estimate close to a quarter billion ounces.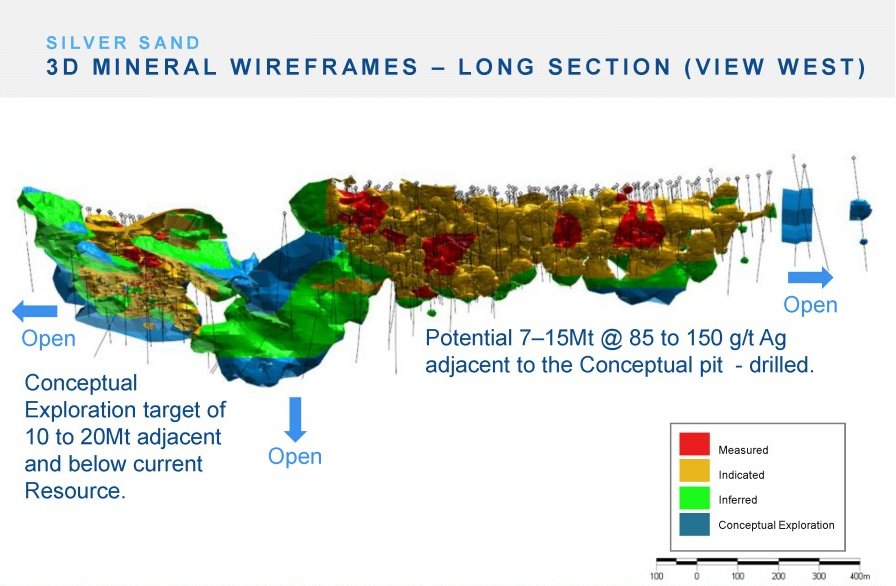 The resource also excluded what is looking to be the highly prospective recently discovered Snake Hole zone where initial drilling has been very successful. To date, the drill highlights from this zone include the following:
·72.4m @ 279 g/t Ag
·38.4m @ 143 g/t Ag
·11.12m @ 761 g/t Ag
With continued drilling of this zone and assuming continued success, this zone could easily add significant resources. Additional drilling has taken place with results at the lab. The company will still need an additional 4-6 weeks to complete the planned expansion drilling in this zone. In turn, the exploration group classified exploration potential as good to excellent. The fact that Dr. Peter Megaw is part of this group (as mentioned earlier) confirms this classification. Drilling to date has been incredibly shallow. As deeper drilling is conducted, it could identify feeder zones. All mineralization is hosted in sedimentary country rocks, which indicates a large mineralized system. These tend to have strong feeder zones – thicker, higher grade vein systems. To date, only the upper plate has been tested (a small area). The following diagram is a conceptual exploration model for the project: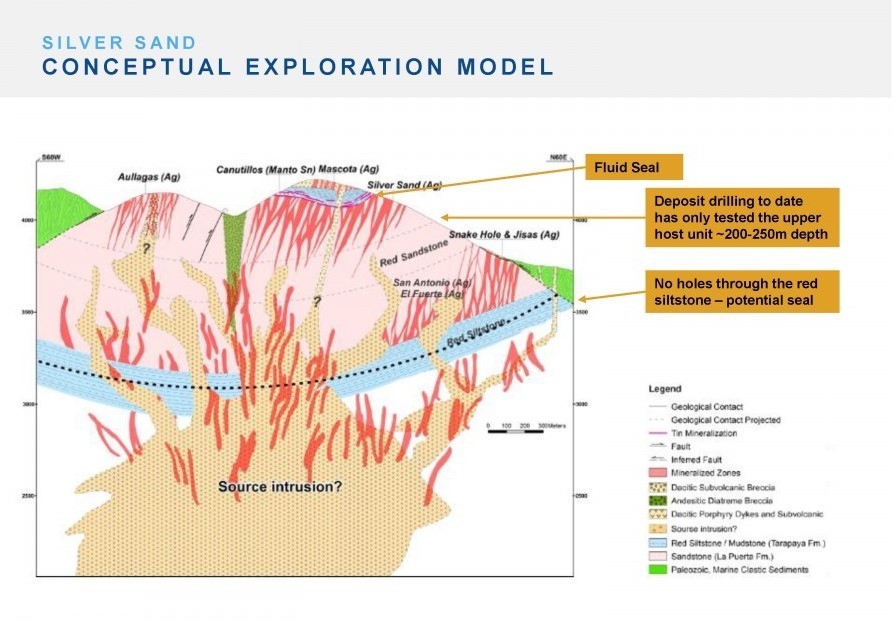 As deeper drilling is conducted, it could and likely will identify feeder zones. The deepest drilling has only reached about 200-250m depth. Grades are expected to increase at depth, providing for a potential future underground operation. To date, only the small upper plate in the diagram has been properly drill tested. There are fluid seals in the system as seen above so it is structurally controlled. The company believes there are two other seals. but nothing at depth has been tested.  New Pacific's exploration efforts will be focused on the south zone. The company also believes there may be multiple silver sand deposits on its land package (inclusive of the MPC mining agreement with COMIBOL) as highlighted above in drill ready targets. Another nearer-term focus will be the development of targeted exploration vectoring tools; deep penetrating geophysical survey to target potential feed zones, and detailing structural and mineral system analysis. The company is well funded through 2020 with $32m in cash as of the end of Q1 2020.
The company more recently acquired the Silverstrike project, which is 450km NW of Silver Sand. The project area covers 19 square km's. Near surface Ag-Au-Pb-Zn, similar to the type of mineralization in Silver Sand where silver mineralization is related to bleached whitish sandstones. In short, New Pacific is definitely sitting on a mountain or "multiple mountains" of silver, the only real question is how large are these mountains. It is one of the very few junior silver exploration companies worth tracking and if recent history is any indication, expect continued success for the foreseeable future. This is definitely a company we will track going forward.