Excerpt from the full article -- One Step Beyond - A Forecast for Gold and Silver in 2023
What about Comex Digital Silver? Well, that's a little more complicated for the reasons listed above and, as you know, Comex silver is subject to 2-3X the volatility seen in Comex gold when prices are rallying. So, if Comex gold is expected to rally over 20% intrayear, why can't Comex silver be expected to rally 40% or more?
Comex silver displays its own bull flag/consolidation on its long-term charts. It flirted with a breakout in March of 2022 and then showed a false breakdown later in the year. However, it's back to near the middle of its range and wanting to move higher as 2023 begins.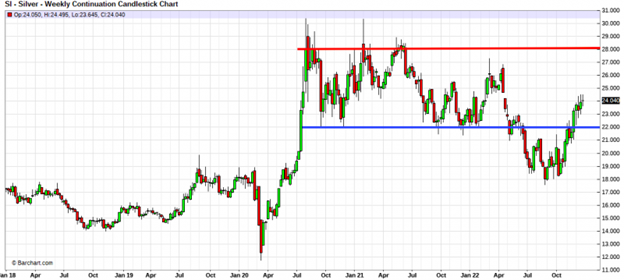 ​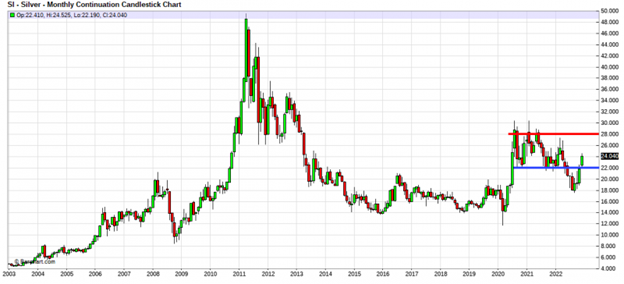 ​
And you might be asking yourself, how did Comex silver fare in 2010 and 2019? As you can see below, it rallied nearly 70% in the back half of 2010 and about 36% from late May to early September 2019.

​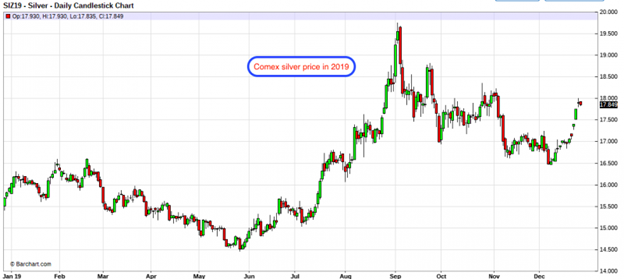 ​
So why not split the difference? Let's say that Comex silver hangs around the middle of this current range for the first 4-6 months of 2023 but then, as The Fed edges closer to making that inevitable shift to rate cuts and QE, it breaks out, catches another massive speculator bid and moves up 50% to about $38 sometime before year end.
Now maybe most of this sounds crazy but all I've really done here is lay out for you what has happened in the recent past and is therefore quite likely to happen again. You can write it off and stick with the mainstream narrative or you can think for yourself and consider the old adage of history not necessarily repeating but rhyming.
Oh, and one more thing, if we're right about all of this....how The Fed will soon shift policy, just as they did in 2010 and 2019...then you should probably take a few moments to remind yourself of how the Comex precious metals fared in 2011 and 2020. This first year of the easing cycle typically just whets the appetite for what's to follow.
Of course, there are other factors that will come into play over the months ahead. Who can predict how NATO vs. Russia will play out and what will happen in the battle of the U.S. vs. China over Taiwan? What about Lil Kim in North Korea? And how will the increasing speed of de-dollarization by the BRICS+ impact things? The answers to these questions are all unknowable as 2023 begins and geopolitics must always be monitored if you're going to follow the precious metals. Keep your guard up and hope for the best, however, preparation and diligence are your best tools for managing the year ahead.
To that end, I strongly urge you to consider joining the global community of TFMR. Precious metals are our daily focus but, for the bigger picture, the membership community adds valuable content each and every day. A subscription to TFMR is perhaps the best investment for your financial and mental well-being in 2023 and it's only $15/month. Join us and we'll get through all of this together.
Thanks for taking the time to read this year's macrocast. I hope to see you at TFMR soon.
​​Excerpt from the full article -- One Step Beyond - A Forecast for Gold and Silver in 2023
About the author