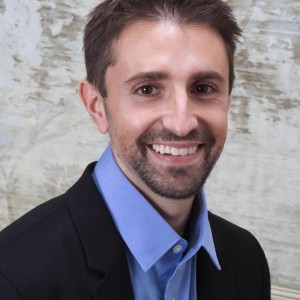 Chris Marchese
Chief Mining Analyst, GoldSeek & SilverSeek
Week Ended Feb-28, 2020
$BTG $KOR.TO $EDV.TO $GCM.TO $MAG $SKE.V $AUY
B2Gold: The company finished 2019 very strong and had a record 2019. Production for the full year totaled 980k oz. Au. In 2020, production is forecast at 1m-1.055m oz. Q4 2019 all-in sustaining costs (AISC) came in at $882/oz. and cash flow from operations totaled $145m (a 71% increase over Q4 2018). Full year 2019 cash flow from operations totaled $492m.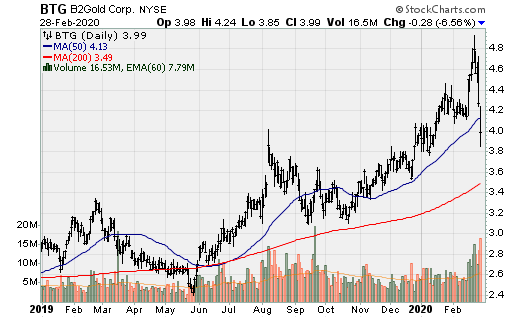 Corvus Gold: The company continues to put out good drill results and expand its resource at its Mother Lode deposit in Nevada. Recent drill highlights include: 64m @ 2.27 g/t Au and 56.4m @ 1.92 g/t Au.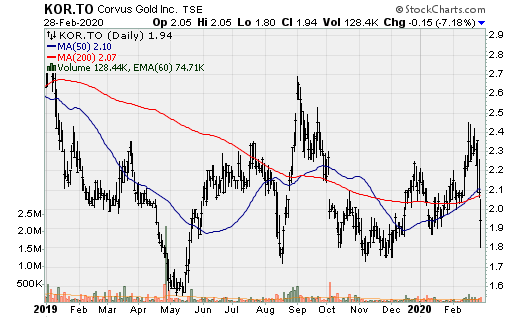 Endeavour Mining: Announced a maiden reserve estimate for the Le Plaque discovery at its ITY mine. Formerly a high priority drilling target at its highly prospective land package, the results didn't disappoint. The MRE had a high M&I conversion rate of 91% resulting in 415k oz. Au @ 2.34 g/t Au (51% higher than the Ity mine reserve grade of 1.55 g/t). It is located just 6km south of the processing plan and the mining license is expected to receive in the 2H 2020. There remains exploration upside as it is open in various directions and at depth with a significant extensions delineated to the South. The 2020 program has budgeted 100,000m drilling for the Ity area in all of 2020, with the goal of delineating additional resources at Le Plaque and Bakatouo.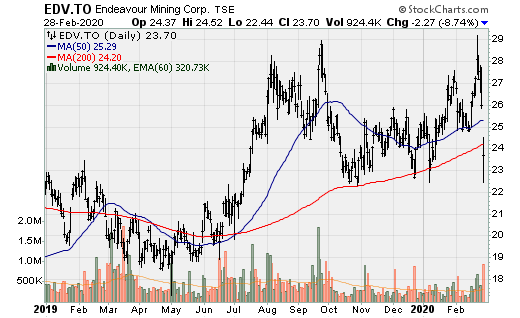 Gran Colombia: The spin-out of the company's Marmato project through a reverse takeover over (RTO) has been completed with the shares and warrants now trading under the name and symbol of Caldas Gold and CGC in Canada. Gran Colombia owns roughly 72% of Caldas. This should be a very exciting company moving forward as it advances the development of an underground to the current open-pit operation. It is well capitalized to continue drilling and completing a feasibility study with CA$21.6m from an equity financing. The Phase II drill results in 2019 illustrate increasing grades at depth (below the 900m level vs the mineral resource block model associated with the preliminary economic assessment. (See PEA results in Gran Colombia's 2019 news release).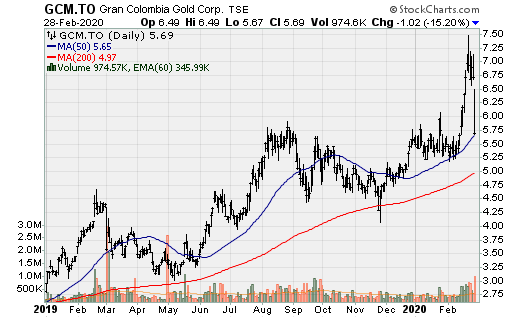 MAG Silver: Construction of the world class Juanicipio silver project continues to progress. The underground mine will commence production ahead of schedule in mid-2020. Over 25km of underground development has been completed to date. There are slight capital-cost over-runs relative to the January 2018 estimate, now estimated at $440m ($194m attributable to MAG). The ramp up will take some time on this large underground mine but this won't really impact profitability as silver grades are highest in the earlier years. The project is now expected to reach 85% of nameplate capacity in Q4 2021 (up from 65% previously) and 90-95% in 2022. Commissioning of the flotation plant will start mid-2021.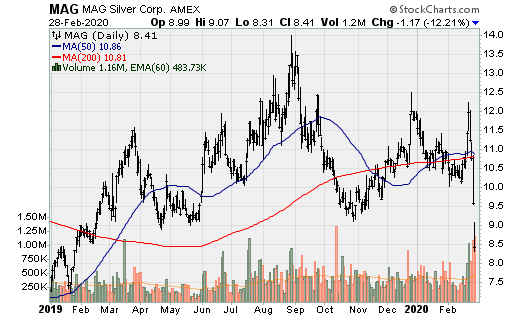 Skeena Resources: Continues to report excellent drill results following an impressive PEA released in 2019. The following drill highlights are the final gold-silver assays from the 2019 Phase I surface drill program at Eskay Creek.
· 14.33m @ 13.25 Au and 701 g/t Ag
· 1.05m @ 1.75 g/t Au and 1,235 g/t Ag
· 0.90m @ 176 g/t Au and 1,530 g/t Ag
· 25m @ 2.58 g/t Au and 51 g/t Ag
· 14m @ 3.36 g/t Au and 40 g/t Ag
These following exceptional drill results released just two weeks ago highlighted by 31.3m @ 11.53 g/t Au and 247 g/t Ag, 18.26m @ 15 g/t Au and 70 g/t Ag. This remains one of the most exciting advanced stage exploration projects in Canada, with a base case IRR of 51% at 1,325/oz. Au and $16/oz. Ag and an after-tax NPV of $478m.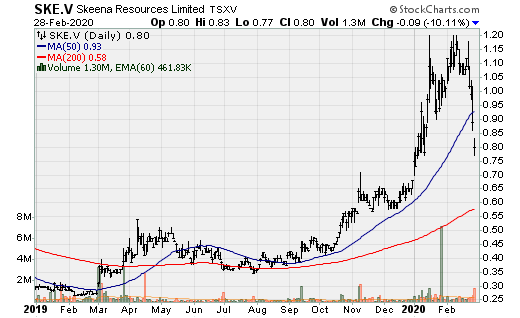 Yamana Gold: Announced the Sale of Its Royalty Portfolio for Total Consideration of $65 Million, creating a New Royalty Company, and Unlocking Further Value by Continuing the Execution of Its Portfolio Optimization Strategy. The company, Guerrero Ventures (will change name to Nomad Royalty Corp). Guerrero is acquiring two royalty portfolio's, one from Yamana Gold for $65m and another from Orion Resource Partners for total consideration of $268m. Yamana's portfolio of assets being sold under the transaction include:
· 1% NSR on the RDM gold miner (owned and operated by Equinox Gold)
· 2% NSR on oxide production from Gualcamayo once it producers 275k oz. Au
· 1.5% NSR on production the deep carbonates project (DCP) at Gualcamayo
· $30m cash receivable upon declaration of commercial production at DCP
· 2% NSR from the Suruca project in Brazil.
The Orion Portfolio will include:
· A Gold stream on the Blyvoor gold mine current under construction in South Africa
· Gold Stream on the operating Bonikro gold mine in Cote d'Ivoire
· Silver Stream on the commissioning Woodlawn zinc-copper mine in Australia
· Silver Stream on the operating Mercedes mine in Sonora Mexico
· A Silver Stream on the operating South Arturo Gold mine in Nevada
· Gold deliveries under a goal loan made to Premier Gold Mines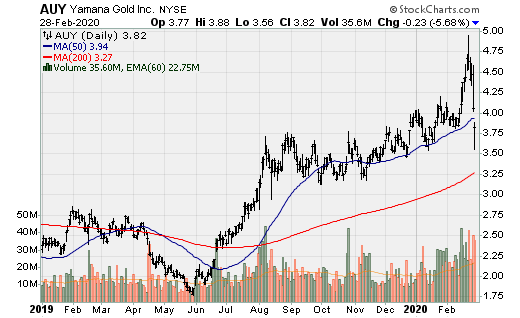 Chris Marchese for the Gold Seeker Report
Chief Mining Analyst at GoldSeek & SilverSeek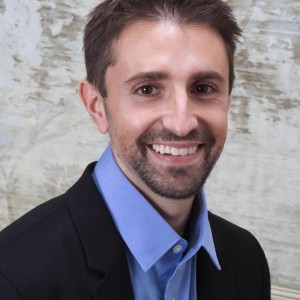 Chief Mining Analyst with GoldSeek and SilverSeek. Previously he was the Senior Mining Equity and Economic Analysis at The Morgan Report. He was a Co-Founder and Director of Lemuria Royalties, before it was acquired in March 2018. He also co-authored The Silver Manifesto with David Morgan in 2015.
Legal Notice / Disclaimer: This document is not and should not be construed as an offer to sell or the solicitation of an offer to purchase or subscribe for any investment. GoldSeek.com, have based this document on information obtained from sources it believes to be reliable but which it has not independently verified; GoldSeek.com makes no guarantee, representation or warranty and accepts no responsibility or liability as to its accuracy or completeness. Expressions of opinion are those of GoldSeek.com only and are subject to change without notice. GoldSeek.com assume no warranty, liability or guarantee for the current relevance, correctness or completeness of any information provided within this Report and will not be held liable for the consequence of reliance upon any opinion or statement contained herein or any omission. Furthermore, we assume no liability for any direct or indirect loss or damage or, in particular, for lost profit, which you may incur as a result of the use and existence of the information, provided within this Report. The information presented in stock reports are not a specific buy or sell recommendation and is presented solely for informational purposes only. The author/publisher may or may not have a position in the securities and/or options relating thereto. Fortuna Silver Mines is not a sponsor of this, or any other related, websites. Investors are advised to obtain the advice of a qualified financial & investment advisor before entering any financial transaction.
About the author