Many of us are fed up. We've dealt with the overt Bank price manipulation of the COMEX precious metals for years, if not decades, and we're all ready for it to end. Individually we are powerless to stop it, as The Banks and their captured "regulators" collude to maintain their power. However, collectively we may stand a chance to overwhelm and break them. Who's ready to take action?
One person who is already taking significant action is Chris Marcus. I'm so proud of him, and I'm happy to call him a friend. When he first contacted me five years ago to ask if I would participate in a chapter for his book, I happily obliged. Since, though, he has become a bulldog in the fight against The Banks. And he does it with passion and integrity, being sure to question all of his conclusions while always giving his adversary the opportunity to respond.
Last week, we supported Chris as he raised travel funds to fly to Washington, DC and confront the CFTC. He's there now, and I'm sure he'll be reporting on his work all week. You can follow along on his website or on his Twitter page.
And Monday evening, Chris released this lengthy video connecting the dots between the COMEX, the LBMA, and the CFTC in their manipulation and squashing of the #SilverSqueeze back in early February. If you can find the time today, you should be sure to watch it.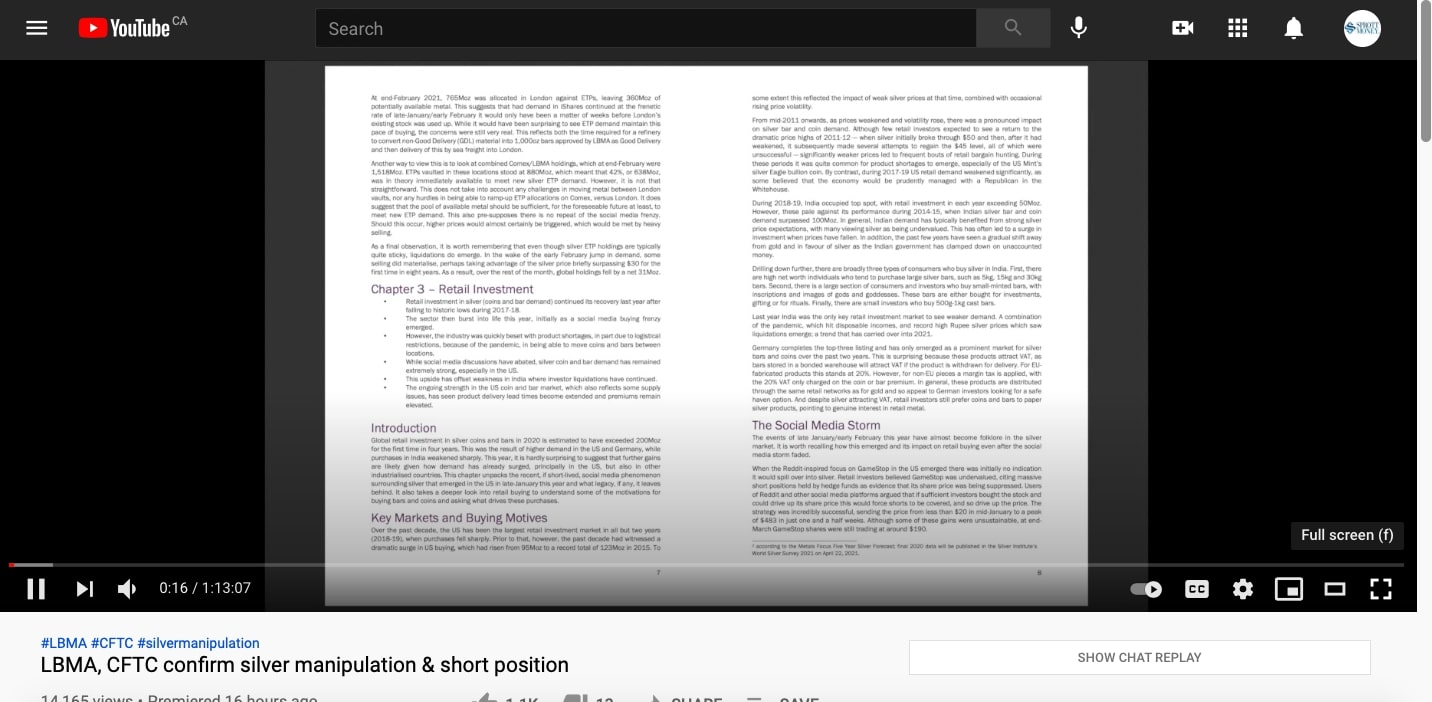 After breezing through Chris' video, I had an idea. If even the LBMA admits that we had them on the ropes back in February, then why the heck wouldn't we come at them again? A boxer with his opponent pinned in a corner and wobbling doesn't retreat and give the guy a chance to catch his breath. Instead, he increases the fury of his attack in the hope of knocking him out.
We need to knock them out.
But we can't do it alone.
So here's my idea - the timing of which is so perfect that is almost HAS TO work. Just as we banded together with the #SilverSqueeze in late January, we shall do so again in even greater numbers later this month.
Next Saturday, May 1, 2021, will be the 10-year anniversary of the single-most egregious act of price manipulation any of us have ever witnessed: the May Day Massacre of 2011. After the price of COMEX Silver had closed at $48.50 on Friday, April 29, many of us expected another jump higher the following Monday as the May11 contract went into "delivery". Instead, on Sunday May 1, during the very quiet and pre-Asia early evening Globex trade, we got this: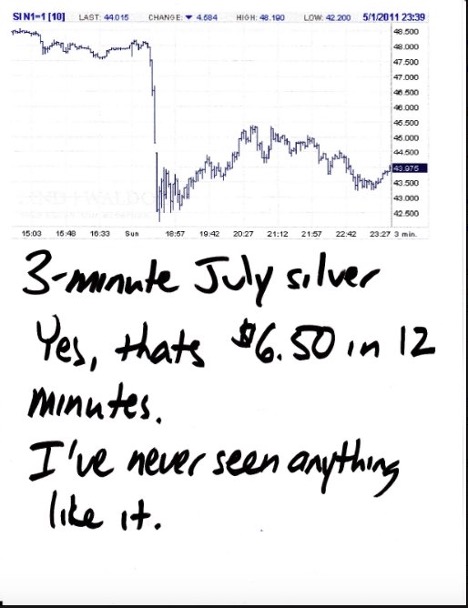 And the raid was on. The CME followed with five margin hikes in nine days, while the co-conspirators at the CFTC looked the other way. By Friday, May 6, COMEX silver traded as low as $34 and it was all over. The Banks and their accomplices had broken the back of the bull market and commercial short squeeze. The rest is history.
Well, now is our time to fight back, and if we can't rally around taking the fight directly to our adversaries on the 10-year anniversary of their most heinous crime, then when are we going to do it?
So, over the next ten days we will prepare. I'll work with the WSS guys, Chris Marcus, and everyone else who's interested in fighting back. If we can get 100,000 people to buy 100 ounces of PHYSICAL SILVER, we can cause a serious problem. If we can also get an army of retail traders to play along by adding PSLV and even SLV to their portfolios, we'll marshal the forces needed to potentially overwhelm our enemy.
This effort will be my focus over the next ten days, and I hope it will be yours too. We will take our revenge by staging the largest #SilverSqueeze yet, and we will do it on the 10-year anniversary of the May Day Massacre...May 1, 2021.
Please join our fight for honest pricing and truth, and be ready to take action on May 1.
About the author