The World Silver Survey 2019 Review, the institute's annual World Silver Survey said that global silver demand hit a three-year high in 2018, surpassing more than one billion ounces, an increase of 4% from 2017.
At the same time, global silver mine production fell for the third straight year, dropping 2% in 2018 to 855.7 million ounces.
The top 10 silver producing countries are: Peru, Bolivia, Australia, Argentina, Mexico, Chile, Poland, China, Russia and Guatemala.
And get this... in every one of these countries, silver production has been falling for the last 4 consecutive years!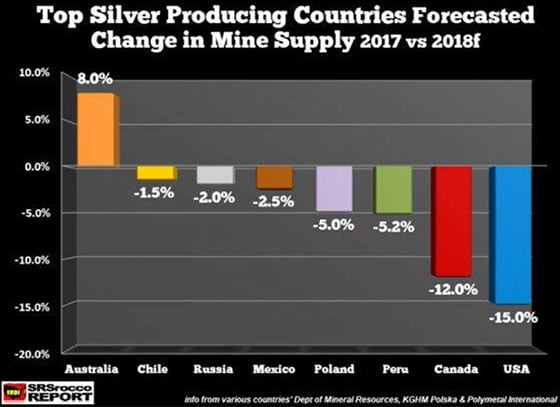 Supply from scrap sources is at a 20-year low.
Silver fabrication (manufacturing) demand is just below record levels.
Silver demand for solar panels has risen for six consecutive years - and is expected to set a new record in 2019
In comparison to the roughly 6 billion ounces of gold mined over history, roughly 54 billion ounces of silver are estimated to have been mined over time. In direct contrast to gold, however, roughly half of the mined silver (27.2 billion ounces) is estimated to have been consumed, destroyed or discarded. (Incrementum AG)
Subtracting from the remaining mined-total roughly 24 billion ounces of silver estimated to exist in the form of jewelry, silverware, statues and decorative objects, this leaves only 2.8 billion ounces in the existing, investable above-ground stock of silver, valued at only $46.2 billion.
Therefore, the investable stock of silver measures less than 2% of the (size of the) investable stock of gold. It is easy to appreciate why silver performance during precious metal advances can prove comparatively explosive! [emphasis added] (Maria Smirnova, Sprott Asset Management.)
The movement of gold from West to East (with over 60% transiting through Swiss refineries as it is turned into the most-in-demand form, .9999 fine) is like a virtual golden river.
About the evolving situation, David Morgan at The Morgan Report says the following:
"Silver will shine, then soar, and finally skyrocket, while stupefying the masses! Remember, only two-tenths of a percent of the world's wealth is actually in silver. If that were to become just a measly one percent, it would require a 50-fold increase. So when all other assets are failing miserably do you really think that only one percent of the world's population would want to own this timeless monetary metal?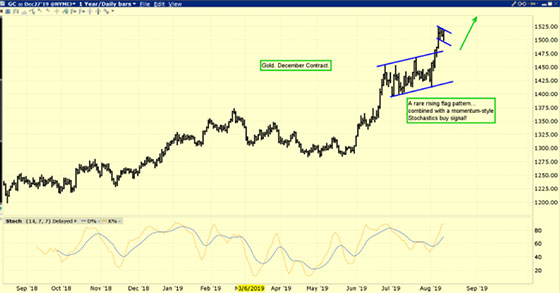 At 60:1, silver would trade at about $165 the ounce.
At 50:1, silver would trade at about $200 the ounce.
At 40:1, silver would trade at about $250 the ounce.
Below that – whip out your calculator and have some fun!
David H. Smith is Senior Analyst for TheMorganReport.com, a regular contributor to MoneyMetals.com as well as the LODE Cryptographic Silver Monetary System Project. He has investigated precious metals' mines and exploration sites in Argentina, Chile, Peru, Mexico, Bolivia, China, Canada and the U.S. He shares resource sector observations with readers, the media, and North American investment conference attendees.